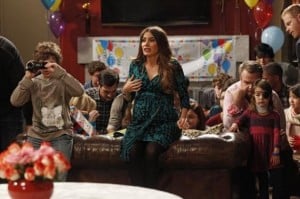 After kicking off the New Year in a way that only they could last week, Modern Family continues the laughs tonight with another all new episode entitled, "Party Crashers."
Jay (Ed O'Neill) and Gloria (Sofia Vergara), having been focused on the rapidly approaching arrival of their new baby, decide to throw Manny (Rico Rodriguez) a fourteenth birthday party he is sure not to forget, however, it turns out Manny won't be the only one surprised at the party.
Haley (Sarah Hyland) starts hanging around a new guy from the boutique and brings him home to meet Phil (Ty Burrell) and Claire (Julie Bowen), who are less than thrilled to learn that he seems to be closer in age to them than to their bright eyed daughter. In the meantime, Cam (Eric Stonestreet) continues to struggle with his return to work, and with Mitch (Jesse Tyler Ferguson) and Lily (Aubrey Anderson — Emmons) seemingly beginning to grow a special bond between them, his jealousy begins to get the best of him.
Can't wait to watch tonight's all new episode of Modern Family? Watch the clips below to get a sneak peek of "Party Crashers."
Modern Family airs Wednesdays at 9/8c on ABC.
[FLOWPLAYER=https://www.tvovermind.com/wp-content/uploads/2013/01/mf-410-1.jpg|https://www.tvovermind.com/wp-content/uploads/2013/01/MDF410_fv1.h264HD-Clip1.flv,440,280]
[FLOWPLAYER=https://www.tvovermind.com/wp-content/uploads/2013/01/mf-410-2.jpg|https://www.tvovermind.com/wp-content/uploads/2013/01/MDF410_fv2.h264HD-Clip2.flv,440,280]
[FLOWPLAYER=https://www.tvovermind.com/wp-content/uploads/2013/01/mf-410-3.jpg|https://www.tvovermind.com/wp-content/uploads/2013/01/MDF410_fv3.h264HD-Clip3.flv,440,280]