[FLOWPLAYER=https://www.tvovermind.com/wp-content/uploads/2012/10/MDF406_fv1.h264HD.png|https://www.tvovermind.com/wp-content/uploads/2012/10/MDF406_fv1.h264HD.flv,480,320]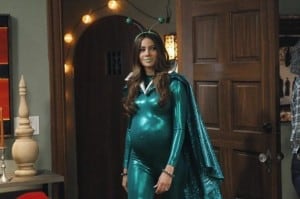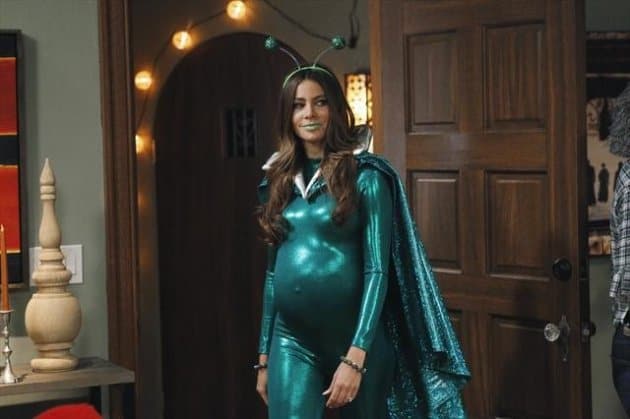 Tonight on Modern Family, the show looks to scare up some laughs with their Halloween themed episode "Open House of Horrors."
Claire (Julie Bowen), an extreme Halloween enthusiast, is forced to take it down a notch and keep her celebration a bit more "kid-friendly" than she has in years past in order to comply with the neighbors' complaints. Phil (Ty Burrell), on the other hand, has other ideas for All Hallows Eve when he decides to try and throw an open house during the festivities.
Not ones to let a reason to throw a party pass them by, Mitch (Jesse Tyler Ferguson) and Cam (Eric Stonestreet) host a costume party but in the midst of the celebrating, Lily (Aubrey Anderson — Emmons) decides it is the perfect moment to start asking questions about her biological mother. In the meantime, with her pregnancy hormones raging worse than ever, it seems that the scariest thing of all this Halloween just might be Gloria (Sofia Vergara) and her temper.
Can't wait until tonight to get in on all the fun? Check out the preview clips below to get a sneak peek of tonight's episode of Modern Family.
Modern Family airs Wednesdays at 9/8c on ABC.
[FLOWPLAYER=https://www.tvovermind.com/wp-content/uploads/2012/10/MDF406_fv2.h264HD.png|https://www.tvovermind.com/wp-content/uploads/2012/10/MDF406_fv2.h264HD.flv,480,320]
[FLOWPLAYER=https://www.tvovermind.com/wp-content/uploads/2012/10/MDF406_fv3.h264HD.png|https://www.tvovermind.com/wp-content/uploads/2012/10/MDF406_fv3.h264HD.flv,480,320]
[FLOWPLAYER=https://www.tvovermind.com/wp-content/uploads/2012/10/MDF406_fv4.h264HD.png|https://www.tvovermind.com/wp-content/uploads/2012/10/MDF406_fv4.h264HD.flv,480,320]
[FLOWPLAYER=https://www.tvovermind.com/wp-content/uploads/2012/10/MDF406_fv5.h264HD.png|https://www.tvovermind.com/wp-content/uploads/2012/10/MDF406_fv5.h264HD.flv,480,320]
[FLOWPLAYER=https://www.tvovermind.com/wp-content/uploads/2012/10/MDF406_fv6.h264HD.png|https://www.tvovermind.com/wp-content/uploads/2012/10/MDF406_fv6.h264HD.flv,480,320]