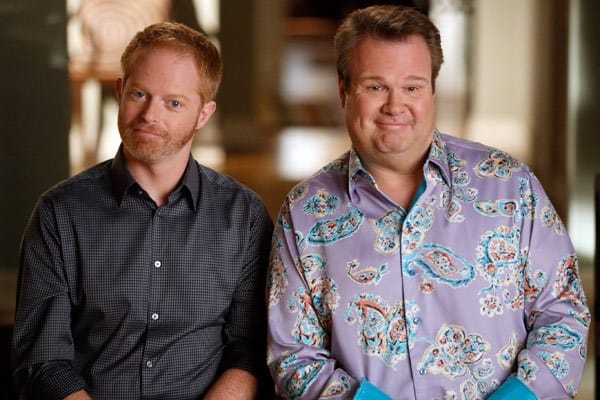 Modern Family gives us another new episode tonight called "Pig Moon Rising."   The brief synopsis for "Pig Moon Rising" posted on TV Guide reads, "Mitchell (Jesse Tyler Ferguson) knocks over an urn filled with the ashes of Cameron's (Eric Stonestreet) beloved pet pig Lilly while exercising in the garage, but Cameron suspects his cover-up is a load of hogwash."
The upcoming episode will feature conflict between Mitch and Cameron following Mitch's offensive mistake in the family garage. It seems that Mitch will be in big trouble after he accidentally spills the contents of an urn, which turns out to be the ashes of Cameron's beloved pet pig. He will attempt to make up an excuse but it seems that Cameron is too smart to fall for his alibis.
So let's talk about this episode, but in particular Cameron.  Eric Stonestreet's initial portrayal of Cameron was almost a novelty.   Using very hardcore and brash stereotypes of gay men, Cameron was the epitome of a feminine homosexual and we laughed hysterically at all his quirks and mannerisms.  I admit that I too was a huge fan of Cameron as well as he relationship to Mitch, a much more "organized" and "straighter" partner.
But as the years have gone on, I'm growing weary of the show.  My biggest beef with Modern Family has been the children.  I'm just not a fan of how they've matured and not really improved as actors.  I think that Sarah Hyland and Ariel Winter are decent but Luke, Manny, and Lily are just annoying at this point.   Phil is still funny.  Jay is always great.  Gloria's not at a funny as she used to be.  Claire's shtick is getting a little old.   And then there's Cameron.  How many motions, gestures, and funny shirts can you wear?  It's not Cameron's fault but I'm just too used to the character right now and frankly much of his behavior right now seems kind of dumb, almost slapstick in a way.  That's not the Cameron I remember.
And now that Cameron will be the focal point of this episode, I'm not optimistic at all.  Let's see if he can carry a show.