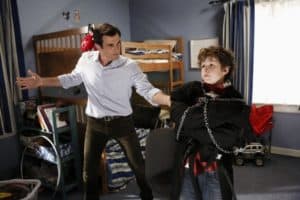 After last week's double episodes, Modern Family continues the run with an all new episode tonight entitled, "The Butler's Escape."
Tonight on Modern Family, Jay and Manny continue to deal with Gloria's increasing pregnancy symptoms including her latest: Very Loud Snoring. After being kept awake multiple nights, Jay decides to take desperate measures in order to get a good night's sleep.
Over at the Dunphy household, Luke declares that he is going to quite magic, much to Phil's disappointment. Despite telling his dad that he doesn't want to do magic any more, Phil is unable to accept it and, in true Phil style, tries to take matters in his own hands.
Mitch and Cam begin to cope with their newly reversed roles in their household. Cam, who previously always was the stay at home dad, now must head to work in his new position as the music teacher at Luke and Manny's school, while Mitch, the previous sole bread winner, must take a more active role in caring for Lily.
Can't wait to see what will happen on the show? Use the arrows above for a photo sneak peek at tonight's episode of Modern Family.
Modern Family airs Wednesdays at 9/8c on ABC.