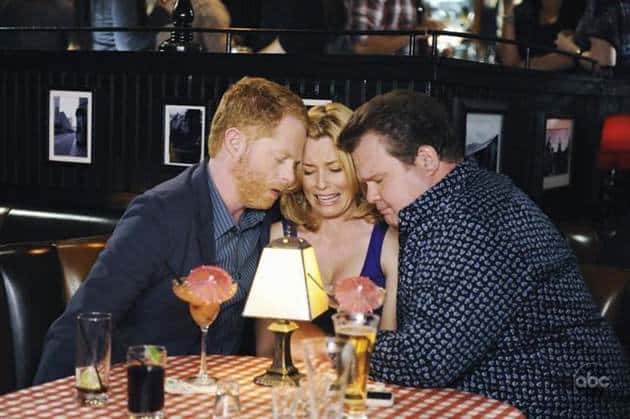 There was lots of laughs, big guests (Ed Norton and Liz Banks) but most importantly a big hilarious family on Modern Family!
Today is Phil and Claire's anniversary and Phil gives Claire a nice surprise to wake up to. He gives her a ViewFinder with their life together and a nice diamond bracelet. Claire gives in return a nice big red envelope of…….hugs! In terms of coupons. Phil takes this as quite a surprise as he wants plenty of things but Claire says he does not want anything.
Mitchell and Cameron are still new parents and with that means long hours and no days out. Tonight that will change when they decided to call their old pal Sal, who is supposedly a raucous at the club and gives everybody, they mean everybody, a good time.
Jay and Gloria decide to babysit all of the grandkids, and Jay is one excited grandpa, but Haley is less excited as she wants to go to her friends party. With the kids bickering in the kitchen, Claire gets flowers at the door and taken back by Phil's generosity and he is getting curious about what he is getting, but he has no idea Claire has no idea either.
Sal's in the house! Mitch and Cam meet her at the bar with a brand new pair of…..boobs! Meanwhile with their baby, Gloria is having a great time with Lily as the rest of the kids come, with Haley getting rejected by her grandfather. By the way, Manny has a weird crush on his cousin Haley. Strange.
Phil and Claire has there night only, Claire gives Phil the gift of a lifetime or so she thinks. At the door is Izzy LaFountaine, the leader singer of a totally 80's band that Claire things is Phil's fave band. For Phil, not so much. Back at the club, Mitch and Cam are betting Sal to make out with waitress and going to Cabo! But as they are parents are still concerned with Lily which making Sal feel left out. She secretly whispers "Kill the baby" but with not really out of hearing distance from the parents.
Phil and Claire are having a seemingly great time with Izzy who is playing his favorite tunes. Even though this was Claire's gift, it seems she is enjoying it a lot more than him! Also enjoying it a lot more that there guests is Mitch and Cam who cannot stop gushing about the baby which makes Sal even more upset muttering "Throw her in the ocean" as she goes pee and Mitch and Cam have no idea what to do so they decide to confront her but the real baby her is Sal who starts to cry and whine, then to bed. Is she 8 months old? No, but it sure is funny.
One baby who is not sleeping is Lily with Gloria doing some weird Columbian chants that nobody could go to sleep with. Haley is still really upset that should could not go, but Jay knows that she is just like Claire as a kid with saying she is only going for 2 hours, and hiding her boyfriend Dylan in the yard. He tells Dylan to go in and take her to a party, but he is more excited about the "Sloppy Jay's" at the house than a party.
Claire is having a great night and recites a little story about their life with Izzy's music who cannot take the fact that Phil is not even a fan. Claire realizes this feels so stupid she cannot do a simple task for he hubby. But we remember it is the heart that counts and Phil just happy her wife cares. Oh, family!
Remember Modern Family airs every Wednesday at 9/8c with repeats at 8/7c! Next week, Cam's clowny past.