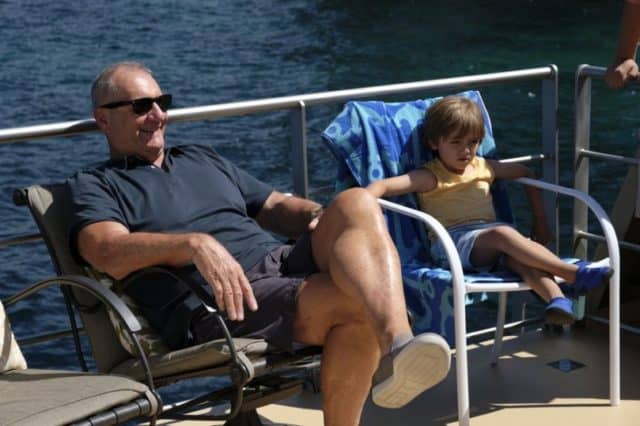 We've had 8 seasons of laughter and craziness with Modern Family; we've seen the characters evolve, the young characters grow up, and we've also seen what a modern American family really looks like. It's looking hopeful, to say the least, especially if family members include the likes of funny people such as Ty Burrell, Julie Bowen, Sofia Vergara, Eric Stonestreet, and Jesse Tyler Ferguson. The season 9 premiere of the highly successful mockumentary TV show gave us more of the same comedy we've grown to love and maybe just a little extra. Here are the top 5 moments from Modern Family's season 9 premiere that aired on September 27.
1. "I don't trust lakes."
Gloria's little line will start off this list. The family was gathered by Jay to watch the eclipse, so they take to the lake for the spectacular event. Jay imagined himself being front and center to the event surrounded by everyone he loved, but we all know that nothing in this family goes as planned. Gloria says at some point, "I don't trust lakes. Where I come from this is where we dump drugs and dead bodies." Good point Gloria. Good point.
2. Alex and the Flamingo
O how they've grown. Alex and Ben are figuring their relationship out. After much badgering, Alex convinces Ben to come, but then acts coldly towards him once they're on the lake. He saves her somehow. She says sorry. Then she gets on a flamingo to keep distance. The flamingo getaway was something so typical of Alex; it's just funny.
3. Sisterly Advice
While Alex was going through her boy issues, Haley was doing the same thing. But Haley's being a little bit wiser about everything and even gives her sister some advice on why she'd been acting the way she was. It was somehow endearing to watch.
4. "Phil, we're them!"
One of the best parts of the premiere is when Claire realized that her and her husband Phil are closer in age to their parents than they are to their kids. "Phil, we're them! We're the cover of the old people pamphlet." The couple received the same brochure that Jay did, prompting the epiphany. What followed after are just a hilarious bunch of efforts to prove that they're still cool and relevant. These included yoga, cloud watching, and bird watching–things that really didn't help their plight much. Then there was the cliff jumping. Really?
5. Mitchell had a crush.
The scene where Mitchell ran into his old crush is just classic Mitchell. The guy just lets it all out on his face, his expressions showing his shock. He later on tells his father what happened. "I ran into this guy who runs the bait shop," Mitchell said. Jay then answered, "Is that a gay bar?" Laughs galore over such a simple joke, but it embodies everything we love about this family and all their quirks. There were many other moments that we loved on the show, but these are some of our favorites. What were yours?