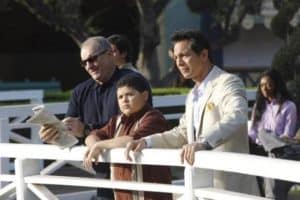 Modern Family is currently on hiatus for the holidays, but the show will return with new episodes on January 4 (for more return dates for your favorite shows, click here).
When Modern Family returns, we're in for a funny Phil-centric episode, as well as the return of Benjamin Bratt as Manny's father, Javier Delgado. Here are some episode descriptions for two upcoming episodes in January.
Episode 11, January 4 "Lifetime Supply": After having a doctor's visit but then missing the call with the test results, Phil automatically jumps to conclusions and starts saying his goodbyes. Meanwhile Javier pops up unannounced again and takes Manny to the horse races for a belated birthday celebration, and a subtle competition ensues when Mitchell brings home an environmental law award and it becomes a game of who has the bigger trophy.
Episode 12, January 11 "Egg Drop": Luke and Manny have a big school project to design the best capsule that would protect an egg in a two-story drop, but when Claire and Jay catch wind of it, their own competitive drives kick in… and eventually take over. Meanwhile, Phil solicits the help of Haley and Gloria to sit as plants in the audience during a huge real estate presentation he has put together, and Mitch and Cam meet with prospective birth mothers and must try their very best to be charming and likeable.