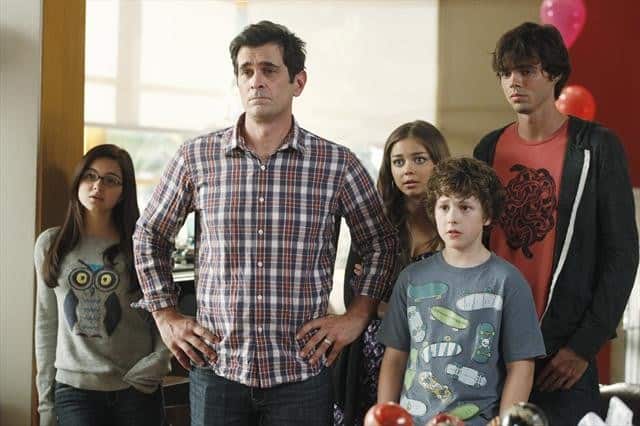 Next week Modern Family begins its highly anticipated fourth season after the season finale last May left everyone wondering how Jay would react to Gloria's news that she was pregnant. With the wait almost over, ABC has been kind enough to allow us all to refresh our memories over where we last left our favorite TV families by airing the season 3 finale tonight, "Baby On Board": "It's been an up-and-down emotional roller coaster for Mitch and Cam in their quest to adopt another child. Their latest ride has them bringing Gloria in tow as a translator, leaving Jay and Manny to look after Lily, who has a big dance recital coming up. Meanwhile Claire and Phil have a proud parenting moment when they send Alex off to her first prom, but then that is quickly marred with Haley's shocking news of her future plans, on "Modern Family."
If after tonight's episode, you still don't have you're Modern Family fill to get you to next week, take a look at the image gallery above with a sneak peek of next week's Season 4 premiere. With Gloria looking for the best way to tell Jay her big news and Dylan moving into the Dunphy household, it's sure to be a great kickoff to the season.
Modern Family airs Wednesdays at 9/8c on ABC.