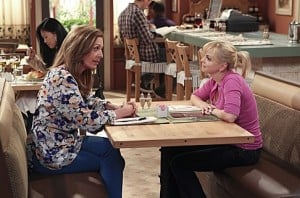 Once you free yourself from an addiction, what's the next step?
Mom is a comedy from executive producer Chuck Lorre starring Anna Faris as a newly sober single mom raising two children in a world full of temptations and pitfalls, and multiple Emmy Award winner Allison Janney as her critical, estranged mother. Christy (Faris) is a waitress at a posh Napa Valley establishment who is four months clean and doing her best to be a good mom and overcome a history of questionable choices. Her sobriety is tested when Bonnie (Janney), her recovering alcoholic mom, reappears chock-full of passive-aggressive insights into Christy's many mistakes.
Bonnie joins Christy's already complicated circle of relationships: her handsome, married boss – and lover – Gabriel (Nate Corddry); the restaurant's hot-tempered chef, Rudy (French Stewart); her pretty, 16-going-on-25-year-old daughter, Violet (Sadie Calvano); her sweet but overly honest son, Roscoe (Blake Garrett Rosenthal); her irresponsible ex-husband and Roscoe's father, Baxter (Matt Jones); and Violet's clueless boyfriend, Luke (Spencer Daniels). Christy tries to remain positive as she pursues her new path in life, but she faces an uphill battle, surrounded by a dubious support system – and a copious amount of dysfunction.
Chuck Lorre and Eddie Gorodetsky (Two and a Half Men and The Big Bang Theory) are executive producers for Chuck Lorre Productions in association with Warner Bros. Television. Pamela Fryman directed the pilot. Gemma Baker co-wrote the pilot with Lorre and Gorodetsky.
Mom is set to air Mondays at 9:30. You can check out CBS's 2013-2014 schedule here.
Will you be watching Mom? How does the trailer make the show look? Do you think that it will do better at 9:30 than Mike & Molly did?
[youtube=http://youtu.be/vlVG3EY35os&w=540&h=385]