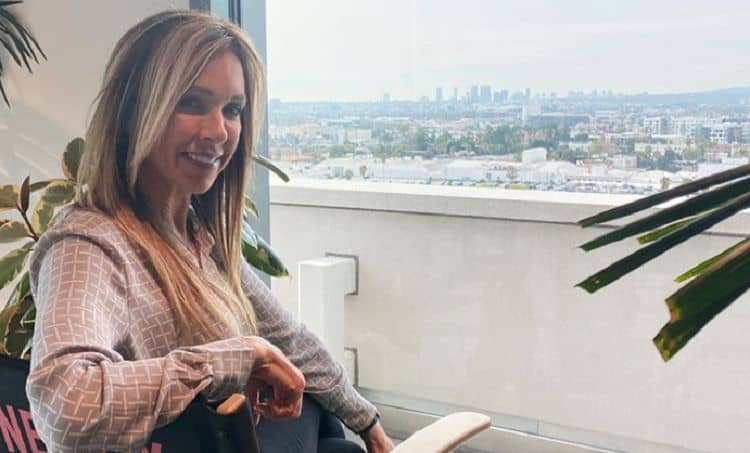 If you don't know the name Monica Aldama, you're clearly not watching "Cheer" on Netflix. She's the head coach of the insanely talented cheer program at Navarro College in Texas. She takes the best of the best, she works them hard, and she loves them as her own. She is a champion, and she makes sure that all the kids who come to her school to cheer are just the same. They are a big family, and she's now the proud star of the hit reality show, "Dancing with the Stars," as if she couldn't show off her talent even more. We want to know more about her. Here's all we don't know.
1. She's 50
Yeah, we know. You can pick your jaw up right now if you'd like. She's a woman of 50, but she doesn't look it. She clearly takes good care of herself, and we appreciate that about her. She works out, she eats well, and she is too busy to bother with an unhealthy lifestyle. She needs to take care of herself so she can take care of her family and her team.
2. She's Been Coaching for 25 Years
Yes, that's right. She took over when it was only 1995. She's been in the middle of the coaching game since, and she's been with the same school ever since. She took over Navarro in 1995, and we have a feeling they aren't going to let her go at any point in the near future considering just how good she is at her job.
3. She's a Record Holding Coach
She has so many championships and titles that it's almost painful to think about anyone who goes to another school ever competing against her. She has been the coach whose squad has 14 NCA Junior College national championships as well as 5 Grand National Titles (which are the titles you bring home from Daytona). She also coaches the squad with the high school in the history of the NCA College Nationals, which means that they are really, really good.
4. She's A Married Mom
When she's not coaching, she's busy with her own family. She's got a husband and two kids of her own. Her husband is Chris. Her son is Austin, and her daughter is Ally. Family is important to her, whether its her own actual family or her cheer family.
5. She Wanted to be A CEO
When she was growing up, she thought she's take over some sort of huge company in New York City. She did not see herself coaching a cheer squad at a junior college in Texas for the rest of her life, but here she is. Of course, she has her own documentary on Netflix, and she has a new role as a reality television dancing queen, so we think she did all right with her life.
6. She's Smart
She is not just a cheer coach. She's intelligent to the core. She has a degree in finance from the University of Texas, Austin. She also has a Master's Degree from the University of Texas, Tyler. She was just living on the edge when she decided at the last moment to apply for the job of cheer coach at Navarro, and she got it. Then she crushed it. Repeatedly.
7. She's a Huge Taylor Swift Fan
She has the young singer on all of her playlists. We get that. Honestly, she's on all of ours, too. As the mother of four, we've had her on all of our playlists for the past 12 years. The kids love her. we love her. it's all good.
8. She Cares
She is a woman who cares about everyone, and she cares about their mental health and everything in between. She said that when the show she stars in first came out, people were really horrible to her. They accused her of having such a big ego that she didn't care at all about the kids or their mental health or anything in between, but this just isn't true about her.
9. The Pandemic Was Hard on Her
When you work so hard for many months on end, hours and hours each and every day, and then a global pandemic attacks without forewarning, it's hard. When you find out that your squad did all that work for nothing and cannot even show it off or do anything about it, it's horrifying. It was hard on her, and it was hard on her kids. It crushes her that they worked so hard and they only have so much time to be in college and part of this squad, and they didn't get to compete.
10. She's Always Looking for Improvement
If there is one thing she's good at, it's finding ways to improve. Whether it's her own mental health or her squad's performance, she's always looking to be better. She likes to learn from mistakes and make things right in her life, and that's what she's going to do in her own world.