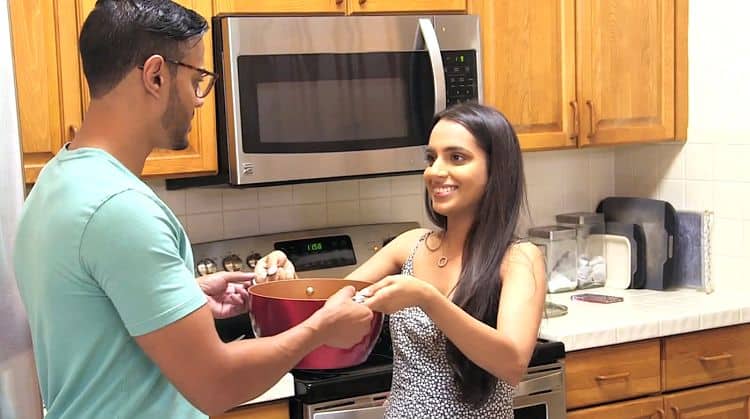 27-year-old Moica Vaswani probably never thought she'd be on a reality TV show. However, when she was cast on Bravo's new series, Family Karma, the opportunity arose for her to appear in a show with some of her closest friends. Throughout the show's first season, she has already shown that she has the potential to be a star.The show is filmed in south Florida and features an all Indian cast. Many story lines on the show focus on Indian culture, and the generational difference between younger cast members and their more traditional parents. Keep reading for 10 things you didn't know about Monica Vaswani.
1. She's The 'Good Girl' Of The Group
Every friend group needs someone who stays sober when everyone else is getting absolutely wasted. Monica is that person in her circle of friends. Monica's closest friends (and now cast mates) would describe her as a good girl. Brian, who has known her for more than 15 years says that Monica barely drinks or goes to parties.
2. She Has A Stable Career
Some reality stars have made being on TV their full-time job, but Monica Vaswani isn't there, at least not yet. According to her LinkedIn page, Monica has worked at the same company for more than four and a half years. Monica established herself as a skilled software specialist. She has been able to have a wide range of experiences within the industry.
3. She Sees The Show As A Blessing
For lots of people, the decision to be on reality TV was life changing, and not in a good way. Some people have seen their personal lives be ruined thanks to the image of them portrayed on TV. However, Monica Vaswani has nothing but positive feelings about her experience on Family Karma. She considers herself "blessed" to have had the opportunity to be on the show.
4. Her Favorite Actor Is Ayushmann Khurrana
Monica's Indian roots influence her heavily. One of the things she appreciates the most about her culture is Bollywood. To put it simply, Bollywood is a nickname for the Hindi film industry. When asked who her favorite actor is, Monica didn't hesitate to say Ayushmann Khurrana. In an interview with BollySpice, Monica explained why Khurrana is her favorite, saying "He is so good! And he is so cute! (Laughs) Him as an artist, he just has a way of just fitting into the role. He gets cast in such different films, every movie that I watch of him, I love!"
5. If She Had To Be Quarantined With A Cast Member, She Already Knows Her Pick
A few months ago, asking someone if there's anyone they'd prefer to be quarantined with would have seemed like a ridiculous question. However, thanks to the Coronavirus, quarantine has not become a part of many people's reality. BollySpice asked Monica if there as particular cast member she'd prefer to be quarantined with if she had a choice. Her answer? Bali Chainani.
6. She Would Date Richa
Family Karma fans are extremely invested in Monica's relationship with Brian Benni Although there was a time where the two had a thing for each other, it seems they've both decided that friendship is the better option. When the question arose of which cast member Monica would date, her answer was shockingly Richa. Of course, Monica was just joking but she does feel the two have a great bond as friends.
7. She Worked For Miss India Worldwide
Miss India Worldwide is a beauty pageant that takes place every year. The pageant began in 1990. A different country hosts the event almost every year. Monica worked for the organization as a representative from 2012 to 2013. Some of her duties included working with charities and meeting global leaders.
8. She Was On The Debate Team In College
Monica Vaswani attended Florida International University from 2010 to 2014. While there she studied communications and earned a bachelor's degree. Monica involved herself in the campus community and was a member of the school's debate team.
9. She Loves To Dance
When Monica isn't busy working, she loves to dance. She enjoys creating her own choreography to her favorite songs.  She even has a YouTube channel where she uploads the different routines she creates. Unfortunately for fans who want to follow her dance journey, she hasn't uploaded a new video in about two years.
10. Her Parents Are Not Together
Divorce is fairly uncommon in the Indian community. However, Monica's parents are no longer together. It's unclear what caused the split, but it's definitely had some lasting affects on Monica she says the fact that her parents marriage didn't work "sucks".