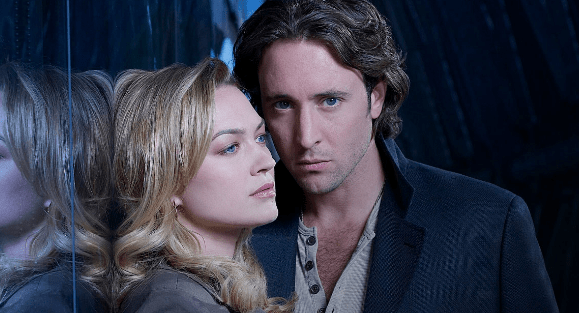 If there's one thing you can say about Moonlight, it's that it was ahead of its time. Vampires didn't really hit it big until late 2008, with the premiere of True Blood and the release of the Twilight film. Moonlight ended its run in May 2008, barely missing the craze that would later make The Vampire Diaries a hit. What might Moonlight have been had it stuck around just a few more months?
Well, CBS has been wondering that themselves. In fact, they've been looking to see what they can do to fix their mistake — and that means talking to the cast. "I just want to say one thing — who was out there first with vampires?" CBS entertainment president Nina Tassler asked Fancast. "Who was out there first?"
Alex O'Loughlin, who starred in the series as main bloodsucker Mick St. John, stayed with CBS in the new series Three Rivers, which was cancelled early on into the 2009-2010 season for low ratings. However, CBS wants to keep O'Loughlin on the network, and bringing back Moonlight is definitely a possibility on that agenda. "We love [Alex] and want him to stay around for a long time," Tassler confirmed.
But is the Moonlight comeback a possibility? Possibly. Tassler stated that Moonlight's executive producer Joel Silver has discussed a potential return of the series with her, "but we talk about a lot of things," Tassler told Fancast. And even if the decision is made to bring back Moonlight, it wouldn't be immediate. "We're about to pick up all of our [2010-11 season] pilots," Tassler stressed, insinuating that Moonlight wouldn't be back before the end of 2010.
Of course, the big question that remains from that is: will that be too late? This vampire craze — some might call it a fad — has already lasted a year and a half, but how much staying power does it have? Will we be looking at a possible vampire recession before Moonlight has a chance to regain its footing — or even come back at all?
What do you think? Should CBS bring back Moonlight, or should they drop the idea?