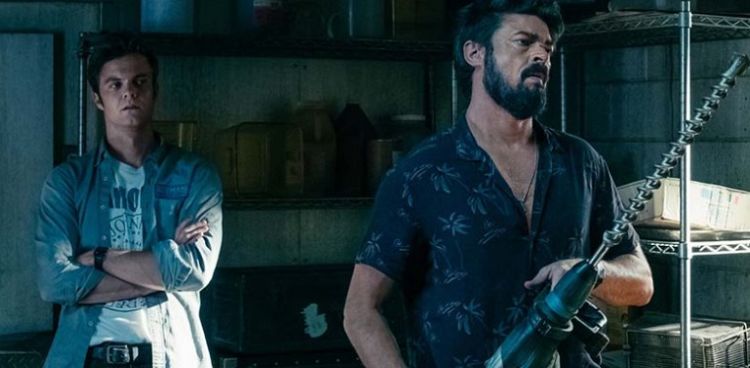 The Boys, one of Amazon's biggest hits right now, was originally a comic book by Garth Ennis and Darick Robertson. The Boys has been adapted into an equally hilarious and violent television series on Amazon's streaming service Prime Video. From names to certain scenes and everything in between The Boys has shown several differences from the show and comics. While there are differences, the show provides an incredibly intense look at different aspects in its own way. Season 3 of The Boys should be on its way this year, sometime soon as we got a look at Soldier Boy, you can check the official website for all the details when available. Below, we'll go over the 20 most shocking moments from The Boys season 2 with some recaps of season 1.
20. Billy Finds Out Becca's Alive
Halfway though season 1 we find out why Billy has such a vendetta against supes. At the end of season 1 and beginning of season 2, we see Billy wake up in suburbia. Only to realize Homelander has brought him to the shockingly alive Becca. The baby and Becca died during labor as the baby clawed its way out, according to what Homelander was told. While this scene was shocking, compared with the events of season 1, other season 2 scenes outweigh this moment.
19. Cindy Breaks Out of Cell
Stormfront is sent to handle things at the Sage Grove Center and encounters some adults treated with Compound V. Cindy, a violent patient is set free and in turn, sets other patients free as well. Several patients are definitely worth questioning, such as the not-so-friendly overgrown appendage that chokes Mother's Milk. The second that Cindy walks out of her cell we see the immediate intimidation that she presents with her demeanor. Cindy's shocking moment ranked 19th on our list due to more major events from The Boys season 2.
18. Kenji Miyashiro
Kenji Miyashiro is the equally violent brother of Kimiko. However, he is not nearly as quick to pull the trigger as she is with his telekinesis abilities. When we first truly encounter Kenji, him and Kimiko engage in an intense battle. Until finally embracing each other and coming to terms with one another. Eventually however Stormfront, as the evil Nazi that she is, practically destroyed Kenji in the third episode of season 2. While at first sight Homelander appears to be put off by it, his twisted mind was clearly a fan.
17. Patton Oswalt
One of the more cringe worthy scenes from season 2 is when The Deep hallucinates that his gills are singing. Who else to help voice such a strange scene than Patton Oswalt. This is definitely something special and only added to the growing list of strange happenings that The Deep has endured. The appearance of Oswalt was teased well before we actually got to view the scene but it's worth the wait. Another shocking moment from The Boys season 2, but it just doesn't compare to others.
16. Stormfront Joins The Seven
In Amazon's The Boys, Stormfront is introduced to the audience the same exact time as Homelander and Mauve. This isn't so strange as it's just another "hero", to comic readers it's shocking to see Stormfront in The Seven. This is a shock as all members of Payback, tried to join The Seven and ultimately failed in the comics. Keeping up with the charade that she is young, and not a Nazi, Stormfront is very aware of social media.
15. Billy Butcher Kills Stillwell Re-Enactment
While we know that Billy Butcher didn't kill Madelyn Stillwell, although he laced her with explosives. However, while the media and just about everyone else believes it was Butcher, we know that it was in fact Homelander that melted her skull. The re-enactment clearly shows Billy as the exact level of psychopath that he actually has shown to be, yet it wasn't him. Of course the trend with re-enactments, especially in comedies, is to make the re-enactment as bad as actually possible. While hilarious, the ridiculousness of this scene ranks it low below the rest of much more important moments from season 2 of The Boys.
14. The Church of The Collective's Fresca Obsession
The Church of The Collective is the beyond mysterious group that calls themselves a church but gives off major cult vibes immediately. When we first encounter The Church of The Collective it's in the form of a sort of life coach assigned with helping The Deep join the church after The Deep is bailed out of jail by Eagle the Archer, a current supe member. When we first meet Eagle the Archer he offers The Deep a Fresca and from here on out we see Fresca references constantly throughout season 2. All the way up until the very last scene of the season, there's Fresca in Alastair Adana's office.
13. Black Noir Survives Naqib
At the end of season 1 we were introduced to one of the terrorists that were ultimately created by Homelander spreading Compound V around the globe. Naqib explodes on command and apparently isn't phased by the explosion as we see him walk straight out of said explosion unharmed. Later however, we see the same act happen again in season 2 after Black Noir breaks into the building where the supe terrorist Naqib was found. This time though we are shown Black Noir badass abilities even further than before as he walks out of the building, most unharmed, holding the head of Naqib.
12. Doppelganger Stillwell
In season 2 we see Homelander enter an intimately lit room and engage in another strange encounter with what appears to be Madelyn Stillwell but we soon find out it's Doppelganger only portraying the now melted vice president of Vought. Earlier we found out that the relationship between Homelander and Stillwell was indeed something stranger than first thought and seen. In already classic Homelander fashion, he kills Doppelganger after he has taken the form of his true love, himself. We see Doppelganger earlier in the show when Stillwell uses the supe to trick a politician into getting a super military inclusion bill.
11. A-Train "Farewell" Scene
After A-Train suffers a heart attack from a Compound V overdose, he enters a coma but sometime after he awakes from his coma he gets invited back into The Seven after joining the Church of the Collective. However, once he is filming scenes for The Seven film he is told by Homelander he will be filmimg his apparently farewell scene, announcing his official leave from The Seven. The movie, officially titled Dawn of The Seven, was an over dramatized version of the firing of A-Train and the hiring of Stormfront.
10. A Truly Explosive Court Case
Though not the first, or last, time we see heads explode on the show with no real explanation, we get to a certain point where it's almost expected to some extent. The most insane time that this does happen however, and while we're still unsure of exactly how, is during episode 7 of season 2 during Vought's Congress hearing. Up to this point we have only seen one or two heads explode in a sitting but this is far beyond that with blood literally everywhere, this is one of the goriest scenes in The Boys season 2. Clearly this scene causes pandemonium as people and running and screaming everywhere but especially so as nobody knew the source.
9. Queen Maeve "Kills" Black Noir
During a surprisingly intense fight between Black Noir and Starlight, when the fight becomes a little too much for Starlight, Queen Maeve interjects to ultimately save Starlight by forcing an Almond Joy into the mouth of the highly allergic Black Noir. Season 2 highlighted Queen Maeve's heroic efforts much more than season 1 and revealed she is more of a real hero than most supes out there.
8. The Deep Gets a Whale Killed
On his journey towards redemption, The Deep attempts to blockade The Boys while they are moving on his territory, the sea. In an attempt to reclaim his place in The Seven by stopping the most wanted criminals right now, he places a whale in front of them. As expected from any plan that came from The Deep's mind recently, and probably always, he fails and the whale is practically split in two.
7. Homelander Relationship with Stormfront
Although when Homelander first meets Strormfront he is clearly intimidated and pissed off about the whole situation, it soon turns into an ultra violent love affair that Homelander honestly didn't need to add to his already twisted mind. While this relationship obviously doesn't last long for these two psychopaths, we were given one scene that showed off their violent affection. When Stormfront dies, Homelander doesn't handle it so well but as we've seen in earlier episodes of the show, Homelander is certainly not in control of his emotions.
6. Congresswoman Victoria Neuman is a Secret Supe
Victoria Neuman was clearly a standout character this season, even for a mostly boring character with no known supe abilities. As the season progresses however we are shown several examples of a possible supe with the ability to cause heads to explode at will. Personally, I had my suspicions that the congresswoman was the secret supe but until the very last scene, it was completely up in the air.
5. Lamplighter Love For The Seven Parody Porn
During the short time that we have with Lamplighter, and definitely the strangest moment with him, we get him and Hughie in an extremely failed attempt at bonding with each other. For some reason, Lamplighter, even as an ex member of The Seven, enjoys watching porn parodies of himself and other members of The Seven. Whatever reason he has for this, Hughie is absolutely not comfortable or a fan, at all.
4. Lamplighter Death
Just when we start to kind of warm up to hero gone do-whatever-he-wants guy, Lamplight goes and does something to take himself out of the running by lighting himself on fire. Although it was extremely badass and it helped The Boys escape Sage Grove Center, it was a shame to see Lamplighter go out so soon as he just seemed to be content with returning as one of the good guys. Lamplighter, as former member of The Seven, actually seemed to be a hero from time to time, but had his own levels of corruption, as most of The Seven do.
3. Girls DO Get It Done
Early in the season Vought is spreading one of their slogans for the new The Seven film to promote it towards a female demographic. While the girls of The Seven, Queen Maeve and Starlight, mock the slogan throughout the season, the two of them are joined by Kimiko as they beat up Stormfront and following the beating Frenchie rightfully claims, "Girls DO get it done." Each of the girls get more than their own share of kicks in against Stormwatch and much more.
2. Stormfront Revealed as Nazi
Homelander, upset with Stormfront over recent events, confronts Stormfront in her room as he feels he's been lied to. However as he begins to confront her, she immediately starts to explain her life to him. She explains to him that she has outlived both her daughter and her husband, founder Frederick Vought. She also informs him that she is a Nazi and Homelander is the only one that can help her dream become a reality.
1.Becca's Death
At number one on our 20 most shocking moments from The Boys season 2 is the unexpected death of Becca. Most of season 1 it was believed she was dead, or at the very least missing. By the end of season 2 as Becca is about to be choked out by Stormfront, Ryan accidentally toasts Stormfront, accidentally killing his mother in the process. The scene was already starting to look as if Becca was going to die, no matter how many times Butcher hit her with a crowbar, until Ryan takes them both out. With the twists the original comic and even the Prime Video show have presented so far, this may not even be the last we see of Stormfront.