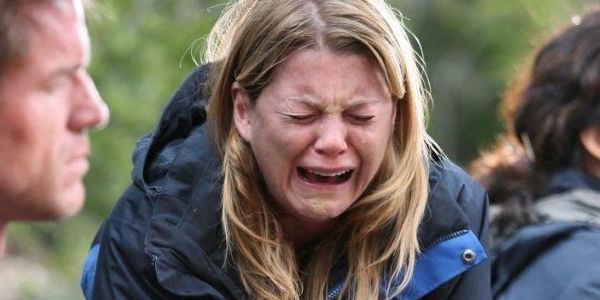 One thing that makes Grey's Anatomy such an amazing medical drama is the highs and lows of the storylines. Viewers connect with the characters and share their emotional experiences. There are many examples throughout the series of much-loved characters coming to a tragic end in some of the most devastating and emotional scenes on television. Which of these is the most tragic is a matter of opinion as viewers will each have their own favorite characters and connect with different storylines. However, there are some deaths that stand out from the others. Here are 10 of the most tragic deaths in the history of Grey's Anatomy.
10. Reed Adamson
Reed Adamson was only in Grey's Anatomy for one season and she was one of the new residents that had come from Mercy West during the merger, says BuzzFeed. Although she wasn't in the series for long, her sudden and brutal death came as a big shock to viewers. She was the first victim of the shooting in episode 23 of season 6, an episode called 'Sanctuary'. She was simply going about her daily business when she was shot in the supplies room in an unexpected turn of events.
9. Adele Webber
Adele Webber's death came at the end of a heartrending storyline about her Alzheimer's diagnosis, says SheKnows. Webber reluctantly realizes that his wife needs full-time care in a residential facility and Adele meets a new man there. To spare his wife's distress and confusion, Webber stops visiting her at the facility. On the day of Miranda Bailey's wedding, there is a call to say that Adele has been taken ill. Bailey puts her wedding on hold for five hours to go and treat Adele. Despite being five hours late, Bailey finally arrives at the wedding, shortly followed by Webber. Viewers do not actually see Adele die, but the scene where he tells Meredith his wife has gone as he stands watching Bailey dancing her first wedding dance with tears rolling down his face is heart-breaking. Adele died in episode 10 of season 9.
8. Dylan Young
You might not remember the name of this character, but you will certainly remember the scene of his death if you are an avid Grey's Anatomy fan, says TV Guide. Meredith removes a bomb from the body of a patient who built a homemade bomb that has become embedded in his body. The surgery is watched over by Dylan Young, a bomb expert. Viewers saw Meredith carefully lifting the bomb out of her patient's body while wearing a bomb proof vest. As she passes the bomb to Dylan, viewers held their breath in suspense, waiting for the bomb to explode at any second. When the bomb did not go off, it seemed that the danger was over. Dylan carries the bomb towards the exit and Meredith follows him out. Just as Dylan gets to the door, the bomb explodes. This scene from episode 17 of season 2 is considered one of the most memorable Grey's Anatomy scenes in the show's history.
7. Susan Grey
In episode 23 of season 3, Susan Grey dies in rather unusual circumstances. Married to Meredith's father Thatcher, Susan Grey is admitted to the hospital with a serious case of the hiccups. While this may seem a very minor problem, it actually led to her death. When Meredith tells her father that Susan has died, he slaps Meredith across the face.
6. Denny Duquette Jr.
Denny Duquette died in episode 27 of season 2. He was a terminally ill patient who Dr. Izzy Stephens was treating him before she fell in love with him. She sat by his bed for hours and supported him through all his challenges. It was a miracle that he survived everything he did, and fans of the show began to believe that he was in the clear. Izzy went home to change her dress and Denny developed a blood clot and died while she was gone. When she returned to the hospital, she was devastated to learn that he had died in her absence and she lies on his bed until she is carried away by Alex Karev. Women's Health notes that Denny does return in ghost form twice.
5. Henry Burton
In season 8, episode 10, viewers saw the death of Teddy's husband, Henry Burton. Despite the fact that Teddy and Henry had originally married so that he had medical insurance to receive treatments for his chronic illness, the couple had fallen madly in love. Viewers liked his character because he was a nice guy and a grounding force for Teddy. When he falls ill, Teddy requests that Christina operates, but the identity of the patient is withheld from her. When he dies on the operating table and Christina learns who it is, she is devastated. Things got even worse when Christina then had to join Teddy in another operating room to complete a difficult surgery without telling Teddy that her husband had died.
4. Lexie Grey
The doctors in Grey's Anatomy have been involved in some major accidents throughout the series. One of the biggest was the plane crash that involved Meredith, Derek, Christina, Lexie, Mark, and Arizona, says HuffPost. The tail of the plane landed on Lexie, crushing her legs and pelvis and causing massive internal injuries. Mark Sloane is with her as she dies and he takes the opportunity to tell her he has not stopped loving her, despite the end of their relationship. She takes her last breath in the last episode of season 8 just as Meredith and Christina return, but there is nothing anyone can do to save her.
3. Mark Sloane
Mark Sloan was also seriously injured in the plane crash as he suffered chest injuries. Unlike Lexie, he did not die on the scene and viewers do not see his death scene until episode 2 of season 10. After undergoing several operations, Sloane failed to recover from his injuries. He had stated that he did not want any further intervention if he did not improve after 30 days of ventilation. Therefore, the decision was made to turn off the machines keeping him alive. Callie Torres and Derek Shepherd were with him when he died.
2. George O'Malley
George O'Malley was one of the much-loved original characters in the series. Tragedy struck in season 5, episode 23 when he saved a woman from being hit by a bus and then was hit by the bus himself. In the lead up to his death, he received treatment from his fellow doctors. The most tragic thing was that his head and facial injuries were so bad that his friends and colleagues didn't recognize him, thus not realizing it was O'Malley they were treating. It wasn't until he traced his nickname '007' on Meredith's hand that they realized the tragic truth of the situation. Sadly, his colleagues were unable to save him and this was shown in the opening scenes of season 6.
1. Derek Shepherd
Most fans of Grey's Anatomy believed that Meredith and Derek had found their happy ever after. They were happily married, successful in their careers, with a lovely home, and two beautiful children. Sadly, the happiness couldn't last and was brought to an abrupt end when Derek was killed in a head-on collision with a truck in episode 21 of season 11. Watching Meredith turn off her husband's life support machine was probably the biggest tearjerker of the series.