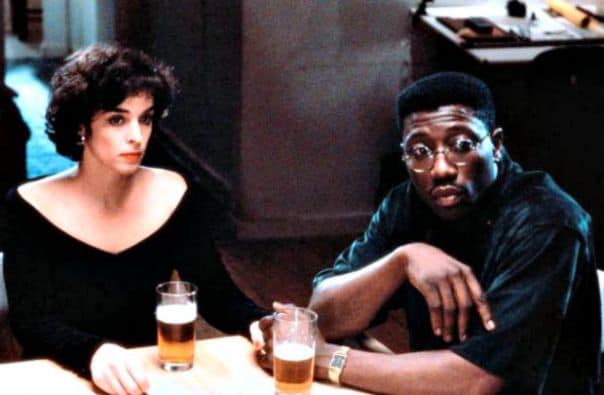 When a successful black lawyer, who's also married, starts having an affair with his white secretary it stirs up more than just the problems that come with adultery since in the time that this film was made and throughout the movie it's seen that people just aren't ready for this kind of interracial relationship. It shows how backwards thinking a lot of people still were back then but it also shows that for as natural as it should be for people of any color to fall in love that fidelity was already becoming a thing of the past. People just about lost their minds over this movie when it came out.
In fact a lot of people still reference it from time to time.
10. Samuel L. Jackson hadn't been out of rehab all that long when he started on this film.
There were only two weeks between the end of his rehab and the time that he started filming, so the fact that he looked so strung out was very real.
9. Halle Berry didn't bathe for two weeks to play her role.
That's a lot of dedication since after one week a person can get to smelling pretty ripe.
8. According to Bill Lee this was Spike Lee's way of getting back at him for having married a white woman after his wife died.
Whether it was or wasn't it would seem that Spike Lee had something to say about interracial relationships and the kind of pain they caused back then.
7. This was the film debut for Halle Berry and Queen Latifah.
From this point on they both went off to do great things with their careers as Queen Latifah would become a rapper for a while and Halle Berry became a well known actress.
6. The crackhouse in this movie is an homage to the one in New Jack City.
While Flipper was the guy looking for his brother in this movie, Nino Brown was the guy running the crackhouse in New Jack City.
5. Three of the cast members would go on to play Marvel superheroes.
Wesley Snipes went on to play Blade while Samuel L. Jackson took his chance at playing Nick Fury, and Halle Berry would don the character of Storm for four movies.
4. Giancarlo Esposito has a cameo in this film. 
He's the homeless man that starts picking up Flippers things when his wife is throwing them out of the window.
3. Spike Lee stated that he used the Marvin Gaye shooting incident to explain a part in the movie.
This was the inspiration used for the Good Reverend Doctor shooting Gator.
2. Three of the actors would go on to play roles in The Sopranos.
Frank Vincent, Michael Imperioli, and Annabella Sciorra would go on to play in the iconic Sopranos show later on.
1. Marisa Tomei turned down the role of Angie Tucci.
She ran into scheduling conflicts as she was on the set of My Cousin Vinny at the time.
This movie tweaked a lot of people the wrong way but it did get a message across in some manner.