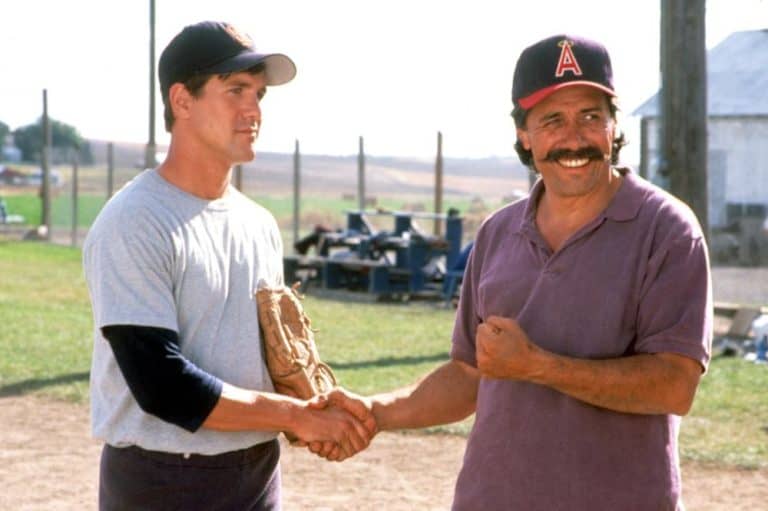 Talent for the Game is a story about a man looking to find someone that can help out his ball club while at the same time attempting to save his job through the discovery of such a promising prospect. When he finds him however the chances that he'll be everything that people are expecting becomes so blown out of proportion that he immediately suffers thanks to the massive hype that he can't possibly live up to. Once he calms down however and learns to play his own game and worry about nothing else, then the true talent starts to come out and the failed hype just kind of dies away.
When you play the game to your own standards it becomes less of a hassle, and a lot more fun.
10. There's a poster on the wall of Bobbi's office when Virgil calls her collect of the play titled Zoot Suit.
Edward James Olmos was in this particular play, which is what makes this moment a kind of 'ah-ha' for anyone that might notice.
9. When Virgil's car breaks down he's listening to a play-by-play game of the Red Sox during spring training. 
The broadcast is actually being done by Hall of Fame broadcaster Chuck Thompson.
8. The farm system is used to train inexperienced players.
To date this system is still used as it allows players to train and gain experience before moving up levels so that they're not so inexperienced that they get crushed in the majors.
7. Many of the scenes were filmed on the Palouse.
The Palouse is a region covering parts of southeastern Washington, north central Idaho, and some parts of northeastern Oregon. It's a major agricultural area, hence the farming.
6. The film had a very disappointing debut.
It only played in a few select theaters and didn't pull in a very big crowd.
5. The box office for the movie was less than $400,000.
Even if it had an impossibly low budget there's no way it did more than break even, as it was a completely underwhelming movie.
4. This is one of the few baseball movies that isn't well known to fans.
Most fans from many generations can name at least half a dozen baseball movies if they're fans, more if they're film buffs and baseball fans. But this one has likely escaped the attention of a lot of people.
3. It received a 36% on Rotten Tomatoes.
Usually it's wiser to not listen to this site and let it do its own thing. But in this case it might be worth paying attention to simply because it might have a point.
2. It's one of the more tame baseball movies.
Many baseball movies are willing to take risks and go for broke with a few stunts and effects that go beyond the traditional boundaries of the game. But this film was entirely formulaic and didn't step across those lines at all.
1. Edward James Olmos is the biggest star in the movie. 
He was about the only real star power this movie had behind it, but it wasn't quite enough.
As baseball movies go it's not the worst but it's easily one of those that gets forgotten.