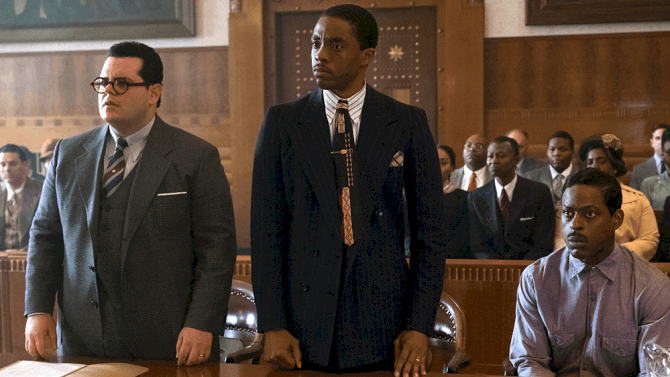 Chadwick Boseman is attending the 53rd Chicago International Film Festival as he is opening the event with his new film 'Marshall', in which he plays the lead role of Thurgood Marshall. He has had plenty to say to reporters and, surprisingly, opened with comments on the weather. Boseman says he has been keeping an eye on the weather as when it is warm in Chicago in the months of September and October, it is a sign that global warming really does exist.
At this year's Chicago International Film Festival, Boseman will be joined by the director Reginald Hudlin and his co-stars Sterling K. Brown and Josh Gad to see 'Marshall' premiere on the Thursday evening of the event. The release date for the movie is October 13, 2017. Others who star in the movie include Kate Hudson, James Cromwell, and Dan Stevens.
The movie is about the role of Thurgood Marshall, the future US Supreme Court Judge, played in a 1941 crime in Connecticut. This involved the rape and attempted murder of an African-American chauffeur. The motive for this crime was he had allegedly attacked his employer's socialite wife. This story has been adapted into a screenplay by Michael and Jacob Koskoff.
Boseman spoke about why he would have loved to meet Thurgood Marshall in person and explained he would have loved to talk to him about the years he spent fighting for equality as a NAACP lawyer. Furthermore, he thought it would be interesting to discuss with him the transition he made from fighting for civil rights as an attorney to becoming a Supreme Court Judge that put him in a position where he could interpret the laws of the United States.
Marshall is just the latest American icon played by Boseman as he has played the roles of significant people before. He played Jackie Robinson in '42', a biographical sports drama about the legendary professional baseball player. Racial integration in baseball is one of the predominant themes of this movie. It was written and directed by Brian Helgeland and also starred Harrison Ford, Alan Tudyk, Nicole Beharie and Christopher Meloni. '42' was released on April 12, 2013. ON a budget of $40 million, '42' grossed $97.5 million at the box office and received mostly positive reviews from critics.
Boseman also played the iconic soul singer James Brown in the 2014 biographical drama movie 'Get on Up'. This film is presented in a narrative style of Brown's consciousness and documents various events in the performer's life from his perspective. It was directed by Tate Taylor and written by Jez and John-Henry Butterworth. Others who starred in this movie included Nelsan Ellis, Dan Aykroyd, and Viola Davis. Although it was critically well-received, this movie only made a small profit.
Talking of taking on these iconic roles, Boseman said he has found it quite challenging. It has required him to forget about parts of himself so that he can focus his efforts on becoming as much like the men he is playing as possible. He said to do their legacy justice, it takes the dedication of both time and effort.