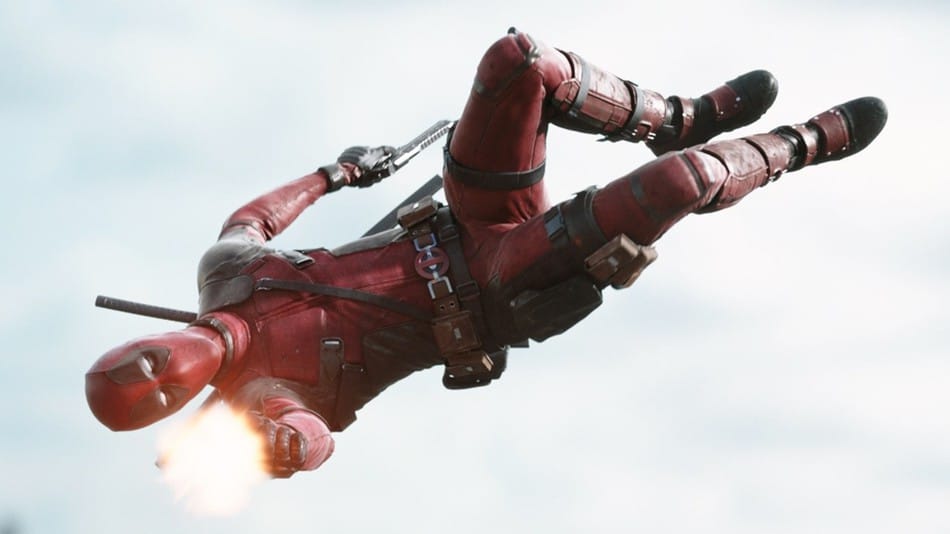 Instead of every Deadpool 2 trailer here is every Deadpool 2 trailer that you should need to watch to get the gist of what the movie has to offer and why you should go see it. Honestly if you haven't seen the first movie or even perused the comic you might not be missing much since Deadpool's ability to break the fourth wall is kind of a way of explaining just what's going on in the movie. Plus, his life is so chaotic and his methods so unorthodox that you may as well just watch them out of order anyway since quite honestly Deadpool might suggest it.
Yeah, I said it. Chances are the guy might actually talk the crowd for a few minutes out of the film. Of course that's why we love him, right?
This was the first look we got at the antihero in red and like always he's spoofing someone with some gimmick in a way that's absolutely ridiculous. Honestly watching his butt cheeks being pressed up against the window of the phone booth (remember those?), is about as funny as the fact that it took him so long to get dressed and come to the rescue. Whether or not this is actually in the movie doesn't seem to make a difference since this alone might make someone want to watch the movie.
Ah yes, Dopinder's back and he's still driving Deadpool around for fun it seems. Of course everyone has their definition of fun and this seems like an odd pairing, but it seems to work since Deadpool is not the average kind of guy. This is where we get to see Cable being Cable, big, bad, and dead set on being the hardcase that everyone knows him to be. Plus this is where you get to see Deadpool forming X-Force.
The trailers spoofing Bob Ross are perhaps some of the best since only Deadpool could do this with such accuracy and get away with it. Just listening to him is something unique and so amazing that you can't help but want to see the movie simply because he's going to be a big part of it. The family portrait at the end is a nice touch as well.
A lot of these trailers do overlap with what they show but then some of them do have different content that comes up. This makes people a little more interested as they get to see just a little more of the movie before they go and see it. Come on, you know people will watch trailers for days, but it might also turn them off thinking they're getting the best scenes ahead of time.
This trailer is great since it gives a better concept of Cable right before Deadpool goes into the 4th wall break since the purposeful mistake allows for a verbal dig at DC movies. It also allows the red-clad antihero a chance to be playful, something he's really good at doing. And of course it shows Cable just being awesome.
This last trailer came out not too long ago and includes a fun 4th wall break when Deadpool refers to Josh Brolin as Thanos. It also gives a lot better idea of just who we're going to get to see. And if you notice it has another slam aimed at DC, just like Deadpool's junk is slammed into Cable's face.
Oh yeah, I went there.