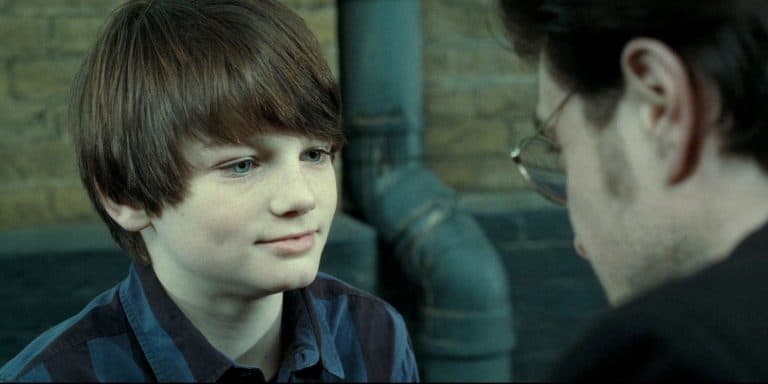 'Harry Potter and the Deathly Hallows' is the final book in the Harry Potter series of novels. This final book ends with an epilog that covers what happened 19 years after the end of the main story. These events chronologically take place in 2017. The scene shows Harry Potter happily married to Ginny Weasley, the sister of his best friend Ron. They are taking the younger of their two sons, Albus Potter, to catch the train for his first term at Hogwarts from Platform 9 ¾ at King's Cross Station.
This scene is also the opening scene of the stage play 'Harry Potter and the Cursed Child'. The primary character of the play is Albus Potter and the play begins with him saying his goodbyes from the platform at King's Cross.
To those with us at King's Cross, and those joining us from all over the world, we wish you a safe and happy journey #BackToHogwarts pic.twitter.com/wAo7B157Zj

— Pottermore (@pottermore) September 1, 2017
To mark this special day, Harry Potter fans decided to stage a rather special and unusual celebration. On September 1, 2017, hordes of fans gathered at King's Cross Station in London. Many of these had even gone to the effort of wearing robes, draping Hogwart's scarves around their neck, or carrying wands. The purpose of this was to wish Albus Dumbledore good luck on his first day at Hogwarts School of Witchcraft and Wizardry. In the books, the children travel from the station to the school on the Hogwarts Express. This always leaves at exactly 11 am on the first day of September.
King's Cross Station is one of the most iconic locations from novels and films and when fans gathered there at the beginning of September, they caused chaos for those who were genuinely aching trains. 'Pottermore', the official website for Harry Potter fans, showed photographs of the crowds that had gathered to wave the fictional character of Albus Potter off on his journey to begin his school career at Hogwarts. Harry Potter fans also took to social media to send Albus well wishes and giving him good luck for his first journey to school.
11am at King's Cross #19YearsLater #BackToHogwarts @HPPlayLDN @HPPlayFans pic.twitter.com/QHg9IrPvJE

— clAAire (@clairegallagher) September 1, 2017
It wasn't just Harry Potter fans who visited the train station on this day as some of the film's stars also decided to wish Albus all the best. Warwick Davies, who played Professor Flitwick in the series of films, decided to join fans on the platform and was more than happy to pose for photographs and sign autographs.
While both the series of novels and the corresponding movies are complete, it is clear from the devotion fans have shown that the story of Harry Potter is one that will be remembered for years to come with new generations of fans having a passion for this story.
WARWICK DAVIS IS HERE ON A SEGWAY WHAT A KING pic.twitter.com/sveXMa8cAY

— Beth✨ (@BethCharlotteP) September 1, 2017
However, it is not yet the end of the Wizarding World as there is more to come for fans of these fantasy tales to come. Currently in production, the second film in the 'Fantastic Beasts and Where to Find Them' is set to wow fans. It is set for release in November 2018. Furthermore, there are three more films planned in this series, so the Wizarding World is set to bring delights to enthusiastic audiences for many years to come.
Save