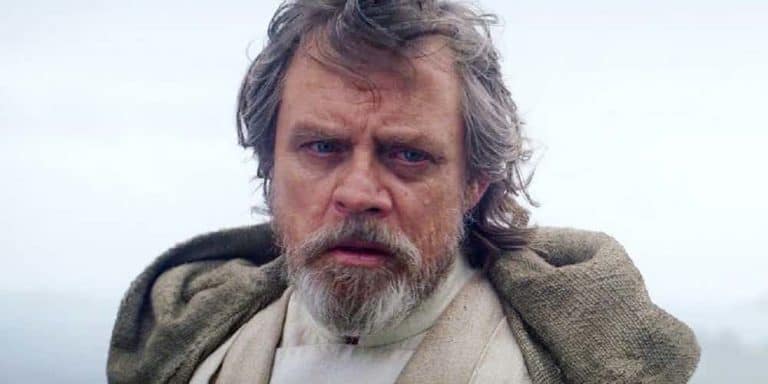 If The Force Awakens ending had been just a little bit longer people would have lost their ever-loving minds. It was enough to see Luke Skywalker chuck the lightsaber in The Last Jedi, but seeing in TFA would have been absolutely mind-blowing and the numbers of fans that would have been clamoring to see the next one might have surged in response. Of course some people might have blown a fuse and been unable to force themselves in to seeing TLJ, but that's hard to say now. Revealing too much at that point might not have been wise since it would have shown that Luke was broken and in many ways not ready to take on the mantle of Jedi Master once again.
It was still a shock in TLJ to see how far Luke had fallen and just how little he wanted to do with the Jedi, but to think that he would have gladly just stayed on Ahch-To and let the galaxy burn was hard to fathom. He was so wrapped up in his failure that he didn't look outward to see what was happening. To be quite honest this vision of Luke was not what people were expecting and despite the fact that the story has to change it did so in a way that even a great number of fans couldn't get on board with. Luke Skywalker was meant to be a symbol of the Resistance, a hero who, even if it was reluctantly, would come back and turn the tide. Well quite honestly he did that, but it took a great deal of convincing and a revelation that he was a broken down old man to make him come to his senses.
In way it's fair to state that a lot of Star Wars fans still feel a bit betrayed by the portrayal of Luke Skywalker and his story within TLJ. It's true, there was a need to pass the torch and move on with the story, but after so long of waiting and so many rumors surrounding the story to have nothing that was predicted come true or even lead to the kind of hopes that people wanted was a bit underwhelming really. Devout Star Wars fans will likely forgive this and move on in an attempt to see what happens between the First Order and what's left of the Resistance, but many fans seem to be on the verge of simply being done with Star Wars. It might be time for the spinoffs and solo stories to come out in order to save the franchise, and if the rumor that the GoT showrunners are still thinking of doing a new trilogy that might help to put more life into the Star Wars universe as it will be needed.
The Last Jedi was kind of jolt to the system that wasn't fully expected and as a result it kind of woke everyone up to the fact that things will never go back to the way they were.
@HamillHimself I made an alternate ending for The Force Awakens. Feeling like JJ really missed an opportunity here… https://t.co/z50AmfsxVk

— Jacob Martin (@jacobdontcare) March 15, 2018