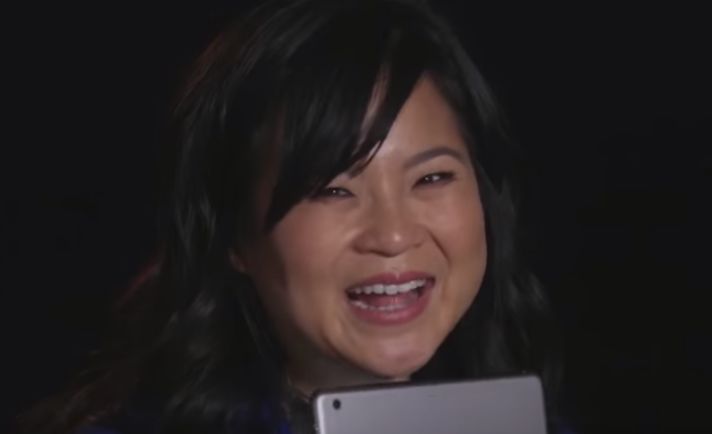 When you think of a monumental franchise like Star Wars, you often forget how vast its fan base actually is. PeopleTV has done a great job of reminding all of us just how young (and consequently adorable) the new fans of the latest installments to the original series actually is. Throughout this video, the stars of the new films are answering questions posed to them from eager fans ranging from age 5 all the way up to 10. Surprisingly, many of the cast and crew make appearances in answering these questions the best way they know how, which ultimately is very entertaining.
Who Is Asking The Questions?
Children from all over have sent in videos asking questions to their favorite stars. Some of these children were seen sitting in their bedrooms, playing with their treasured Star Wars toys while others put together a more polished and professional looking presentation for their questions. It is unclear to determine how the questions were picked from what could only be assumed as an extensive list of potential video submissions, but the ones that made the cut are either probing, inciteful questions or ones that are sure to get a laugh out of you.
Who Is Answering The Questions?
Surprisingly, there are a lot of members of both the cast and crew that play a part in the video to answer some of the questions they are being asked. You can see Daisy Ridley (Rey) answering a couple, Mark Hamill (Luke Skywalker), Gwendoline Christie (Captain Phasma), John Boyega (Finn), Laura Dern (Vice Admiral Amilyn Holdo), Kelly Marie Tran (Rose Tico), Benicio Del Toro (DJ) and even the film's director, Rian Johnson pitching in to answer the rest. This grouping of the top billed cast for the film offer their own insights into both their personal interests and preferences, as well as more specific questions regarding the franchise as a whole.
What Was Being Asked?
As was stated earlier, you will find a very broad series of questions here from finding out some personal questions about individual actor's preferences and feelings, but there are also some very specific questions that I'm sure many adult fans might have also been a little interested to learn as well.
The entire video begins with questions like preferences between C-3P0 and R2-D2, but then delves more deeply into engaging topics like how a Jedi or Sith's lightsaber is one color or another. Did you know the reason that the colors differentiate? If you don't, then there is no time like the present to delve into this video and figure out that answer for yourself. You might also learn the answer to the age old question everyone has been dying to know: Does Vader tell any good jokes?
Now the only thing left for you to do is to check out this video for yourself. You are sure to get a chuckle or two out of it, if not a deep seeded appreciation for just how vast the group of fans for this iconic franchise actually is.