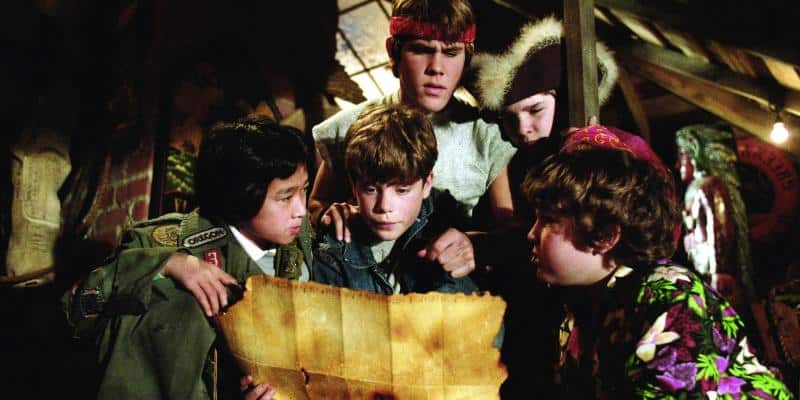 It's with a heavy heart that anyone would say that a Goonies 2 movie shouldn't and will not ever happen. You might be thinking at this point "Why not??!" simply because like so many other people you grew up with The Goonies and would love to see a movie about how the kids turned out and possibly had precocious, trouble-making kids of their own. Am I right? But alas, there's a better than none chance that it will never come to be since there are a host of reasons why it would be put beyond the back burner and on the back shelf, as far away from being made as possible. Some of them might seem trivial and others might seem a bit silly, but there are a few that make a lot of sense and would seem to be good enough to pay attention to. The original actors of the much-loved film have even expressed a desire to revisit the fabled realm of implausibility and try to revive some of the magic therein, but the truth is that even they have seen the light at this point and it hasn't revealed anything particularly thrilling that could help the cause. It's so very painful to say this but The Goonies 2 might not even be in our lifetime if you want the honest truth, not unless someone with the same vision and the same gumption to create something special came along with an idea that could possibly bring the story back into the mainstream.
If you recall the movie didn't come out to rave reviews. It was even thought of as an Indiana Jones knockoff for the adolescent mind. But despite all that it became a favorite movie of those kids that grew up in this era and came to love the strange and impossible nature of the film. Think about it, a bunch of kids looking for a way to save their homes from being bulldozed find a treasure map that's believed to be nothing but an antique and follow it into the depths of what could be one of the greatest adventures ever put on film. Of course for adults it's bound to seem silly and bizarre, but for kids it's a chance to believe in something that lies beyond their scope of reality, and therefore is bound to be one of the greatest adventures ever.
But if you really want to know why it won't get made, here are a few reasons.
Even if someone did step forward, the script would have to be on point.
Do you remember thinking that you could find the place where One-Eyed Willie was discovered? Your young mind might have rationalized that you wouldn't find the ship, but you could at least find the location. But then you grew up after trying to find it because you realized that not only did the movie show a few very different locations, but there was no way that the geography could have been right since the movie went from Astoria to Cannon Beach and back again in a matter of moments. That glaring inconsistency would have to be addressed and somehow still worked with in the movie so as to make it appear somewhat feasible. Those that don't know the Pacific Northwest at all might be fooled, heck even those further inland from Astoria might not know any better, but those that have lived on the coast and around it were likely rolling their eyes even as they enjoyed the movie.
No one wants to do it without Richard Donner.
Donner is the person responsible for the movie and is well into his 80's at this point. He's also been one of those that has been most adamant in saying that the movie could possibly happen. But as the years have gone by and nothing has come of it people are starting to realize that it's not likely that anything will. There's always that slim chance that Donner might be able to pull something together and finalize it, but there's a lot working against the film at this point and the fact that Donner might not be able to do it would be one of those factors. It just wouldn't be the same is what a lot of people seem to be thinking, and there's no doubt that they're right.
It might ruin the classic that people know and love.
Sometimes a sequel is a good idea and should be explored because there's a lot more of the story to be seen. But in this case, while there are a few loose ends, the saga of the Goonies kind of came to fitting close since the Goondocks were saved, One-Eyed Willie and his ship were allowed to finally set sail from their tomb, and the Fratelli's were finally taken into custody. It was a fitting ending, no matter how much we want another movie.
Maybe I should write Sean Astin and Corey Feldman about a script….