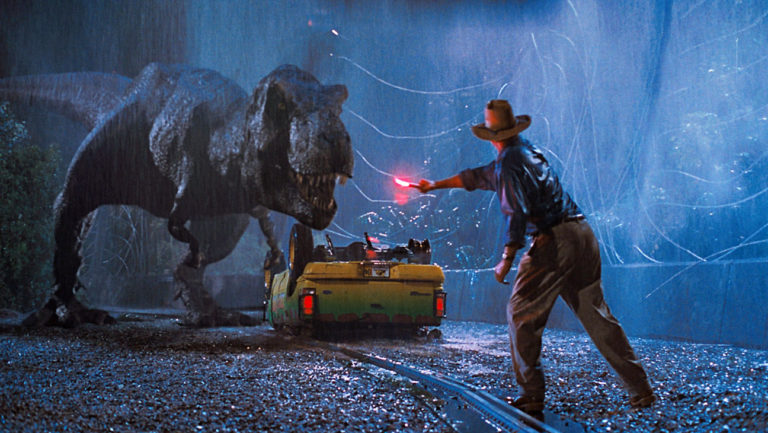 The term "supersize me" has been in existence for long enough that people seem to have forgotten just how it started. Sadly that means it's been around for over two decades. See how dim the public consciousness can get when it gets so easily distracted? The supersize option at McDonald's was not originally the supersize if you can believe it. Even if you can't it came about as a means of the partnership that McDonald's entered into with 1993's box office hit Jurassic Park. If you look it up you'll find out that it's true, that without Jurassic Park we might not even have such a thing as supersizing.
The original idea was to "dino-size" the meal, meaning that it was bigger in a couple ways. There were more fries, the drink was larger, and your drink came in a plastic cup with the image of a dinosaur from the movie. People tended to collect these even despite the fact that eventually the image would fade and wash away and the cups themselves were prone to cracking now and again due to extreme temperatures in the dishwasher. But they were a part of movie memorabilia and it's no doubt that some people kept them just for the memories. Hey I still have a few things squirreled away from Jurassic Park too, it was an epic moment in film history after all.
Once the film was out of theaters however the chain had to change the "dino-sized" meal to a supersized meal, which it remains today. Of course at this time a lot of McDonald's will ask if you want your meal in small, medium, or large, meaning of course that your drink and fries will be affected but the burger or sandwich you order will still be the same. To be honest most people don't need a half pound of fries, exaggerating of course, and enough soda to drown a small anthill. The pushing of these products is fairly easy for McDonald's since it increases the price more than a little and the profits tend to outweigh the added cost of the consumables.
In essence supersizing is something that never really needed to be continued. The effect of doing this for a movie was great, it offered a treat to the customer that should have been a limited thing.  When McDonald's offers a promotional deal with a new sandwich or menu item that's specifically pushed as a limited time offer like the McRib, which is a whole other story, people understand that it won't be around forever and will come in limited quantities. Of course the McRib and other specials tend to take more money to bring out now and again and as a result aren't a normal part of the menu lineup. The add-ons however are something that people have come to expect.
Just imagine what might happen if McDonald's went back to the idea of serving a standard-sized meal. People would likely be flabbergasted at the sudden switch, but then also think about this: they might decide to purchase more all on their own.
Save