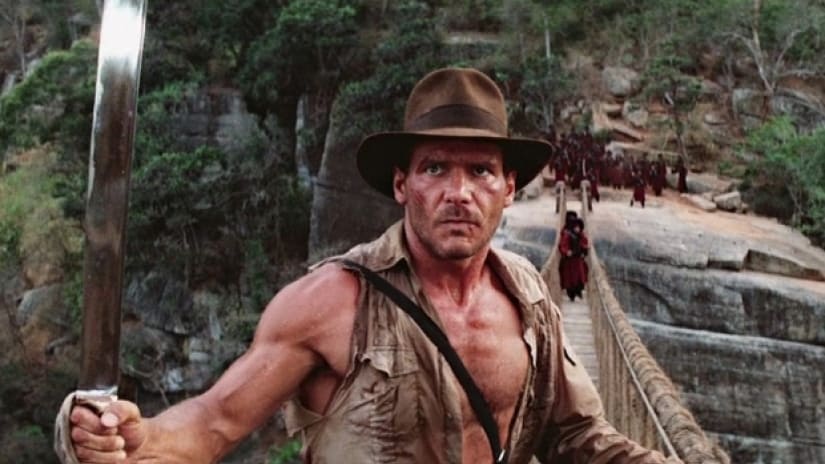 Apparently Indiana Jones and the Temple of Doom is a prequel to Raiders of the Lost Ark. Who knew? It has a lot to do with the fact that George Lucas and Steven Spielberg didn't want two Indiana Jones movies in which the Nazis were the bad guys. That's kind of smart really except that they did in fact make another story concerning the Nazis if you recall, Indiana Jones and the Last Crusade. The Nazis might not have had as critical as a role but they were still there front and center. In TOD however, which is set one year before ROLA, Indy is going up against a very violent and devious Thugee cult that has stolen a precious artifact from a nearby village.
Being an adventurer as well as a professor Indy of course went out of his way to retrieve the artifact, risk his life, and the lives of the two people that counted on him. But knowing now that this is a prequel that leaves a few very big questions. What happened to Short Round and Billie? I can understand if he moved on from Billie, as he's kind of an adventurous James Bond type when it comes to the ladies, but what about Short Round? Did he just leave the kid somewhere and say "best of luck to you"? There's a few continuity issues in between the movies that need to be solved to be honest and some questions that never get answered.
One thing is certain, and that that TOD was heavily criticized for a few things. One was that it was seen as too violent, too dark, and just too controversial. Another is that showed Hindus in a very poor light, which was not at all appreciated. The feast of live snakes, monkey brains, and eyeball soup was so over the top for the time period that many people were greatly insulted by this and refused to watch the movie. TOD had mixed reviews to start with but over the years had become more and more loved by fans now that they understand what it was about and can parse fact from fiction.
It's easy to understand how those that are represented in a movie can lose their cool and become offended when their religious practices and customs are thrown so far out of whack, but it is also necessary to take whatever you see in a fictional movie with a big grain of salt. Unless a film is supposedly based on a true story it's safe to assume that they're going to embellish quite a bit when it comes to whatever subject they're filming. If something is normally not that exciting it will have viewers in a fervor by the end of the film. If it's already controversial and over the top then they'll take it even further.
That's show business, they take what's already there and make it into something that you can barely recognize. In fact I'm betting that a lot of people never knew that Temple of Doom was supposed to be prequel.