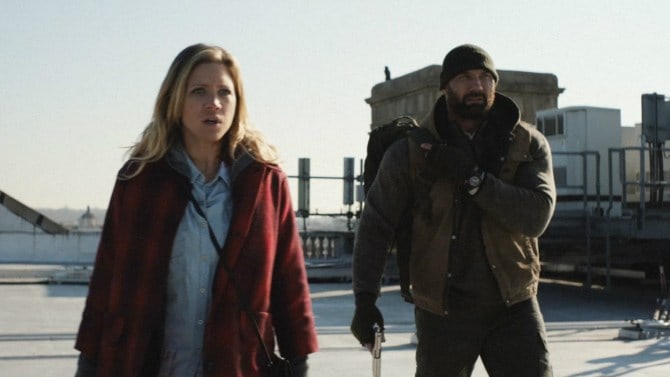 When currently live in a world in which a nation that once considered the safest place on the planet to live does not seem as safe anymore. There are the constant threats from outside forces like ISIS and Al Qaeda terrorist cells; however, what has become increasingly more alarming is the heightened threat of internal attacks by other American extremist groups or even attacks orchestrated by our own government. The possibility of Marshall Law in a U.S. city is becoming more real by the day. With this type of imagery constantly being impressed upon the psyche of American citizens, what better time than to produce a movie in which one of America's most historic cities and communities are invaded by renegade American soldiers — enter the movie Bushwick.
The movie is centered around the idea of Texas seceding from the Union, which is something that is not out of the questions, with states like California consistently keeping the idea of secession in the media. A Black-clad military group out of Texas decides to invade Brooklyn of all places. To gain a clearer understanding of why they choose Brooklyn and what Brooklyn has to do with the secession of Texas from the Union, you will have to go see the movie.
The key character in this movie is a young Brooklyn native named Lucy who steps off her daily ride on the New York subway to discover that her community is under attacked by revolutionaries. Getting home safe has now taken on an entirely different meaning for this New Yorker. Fortunately for her, a U.S. marine decides to take on the responsibility not only defend the town but to make sure that she survives the ordeal.
It is important that when you watch this film that you don't become so consumed in the awesome action scenes that you miss the social commentary that is being presented in this film. Everyone in this country has an ideology or philosophy when it comes to violence and its use as means of liberation and empowerment. This film will challenge you on this issue no matter where you stand on the topic. It will make you think long and hard about the consequences of your philosophy played out in real life. It will also challenge you to consider what happens when citizens choose to do nothing.
Within minutes of the show starting, a young college student steps off of a subway train with her live-in boyfriend, discussing the best way to introduce him to her parents, and with in minutes, the boyfriend is dead, killed by an explosion. Now, the real action begins.
Lucy's new protector, former Marine Stupe, played by Dave Bautista (Guardian of the Galaxy) also plays a key role in expanding the reach and message of this movie.
For the action junkie, this movie is a no brainer, you must see it. But, it is so much more than an action movie, it has the ability to appeal to the socially conscious audience that finds itself constantly considering the plight of this nation and where we are headed and what will happen if changes aren't made in the very near future. You will definitely leave this movie with some serious questions.