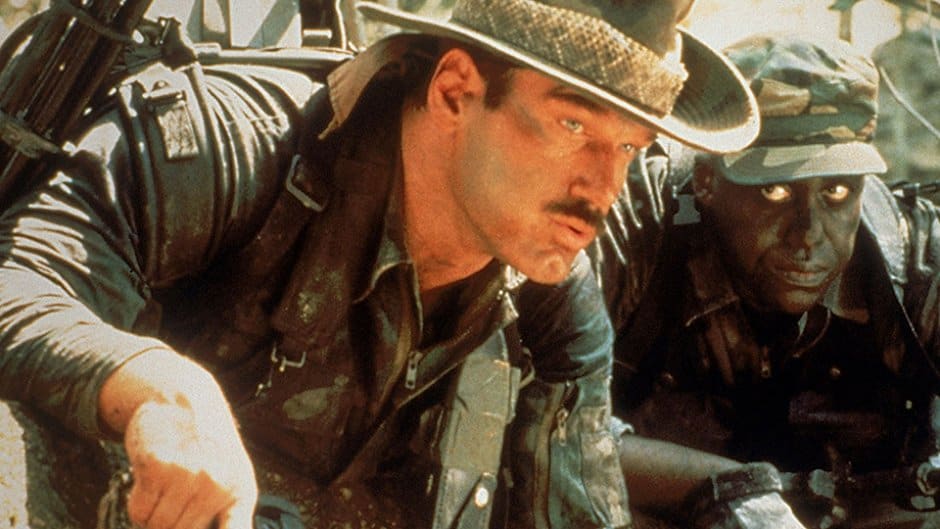 Get to da choppah! Honestly, you just said that aloud or in your head, didn't you…. I don't blame you, it's one of the best lines delivered in one of the best action movies ever made. And why is Predator so great? Why would miles-long trek through some deadly hunting ground be considered as one of the best action movies of all time? Because it was almost ALL action. There were so few pauses in this movie that it allowed the audience to soak up every last bit of testosterone-laden action that was to be had, and it was wonderful. Now, 30 years after its initial release, Predator is coming back to theaters so that the audiences that remember what a real action movie looks like can see it again.
Let me amend that just a bit, a REAL action movie is coming back to theaters for a limited time only. Yep, I said it. Action movies today might be great, and they are, with the clever use of CGI and the compelling story lines and spectacular stunts, but Predator needed very little of that in its time and it was still great. Some of the biggest special effects had to do with the Predator and its entire arsenal, and that was awesome all on its own. It's interesting to realize that Jean Claude Van Damme was originally going to be the creature but bowed out. Apparently he didn't want to be completely covered up since it made him look silly. But quite honestly it worked out for the best.
Schwarzenegger, Weathers, Ventura, and all the others were awesome in this film and provided some truly memorable scenes in which fans still remember the intensity and straightforward manner that made this movie such a classic. It didn't come out to great reviews but if you really look at the time period a lot of movies that are so revered now didn't really elicit much of a response back then. It's almost as though the critics were holding their breath and reserving their best reviews for those films that didn't take their breath away with every stride, as though fearful to say too much or be too positive about a certain flick.
That didn't keep fans from thoroughly enjoying this flick and remember it years later when it became something of an icon in the movie industry. So the second film flopped and the AVP movies weren't that great, but they were something new and could possibly gain more support as time goes on. The newest installment in the franchise, Predators, wasn't all that bad despite the fact that it went a little over the top with some of the characters. But regardless of that, the best is the first movie, hands down and without any argument.
The pace was set and the bar was raised with this film despite a modest budget, and the franchise was given something that could continue to be great if a director with enough skill could step in to keep the ball rolling.