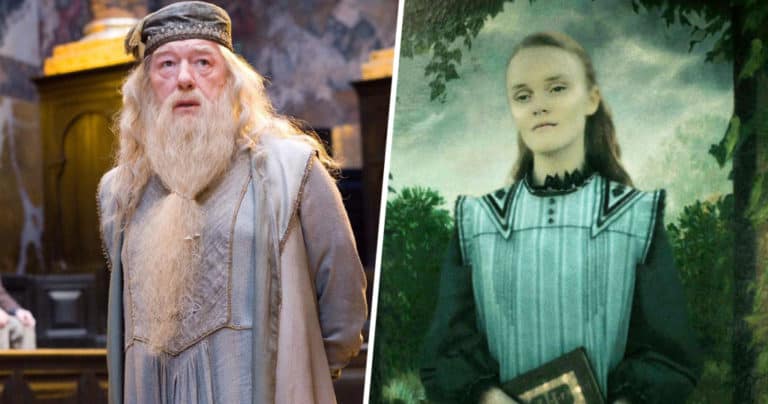 There's a great deal of conjecture and theory still surrounding Albus Dumbledore, the headmaster of Hogwarts in the Harry Potter series. Even after the end of the films, well after Albus' demise, it is reasoned that his possession of the elder wand, the most powerful wand in existence, was gained by some other means than defeating his good friend Gellert Grindelwald. In fact one fan has deduced that Albus' sister Ariana had a lot more to do with this. If you remember her from the books she was described as being confined to their home after a run-in with three muggle boys that forced the senior Dumbledore, father to Ariana, Albus, and Aberforth, to be absent for much of their lives.
Then an accidental flare up of magic, an obscurus, took their mother, leaving the three as orphans and needing to stick together. Aberforth went back to school while Albus stayed with Ariana to take care of her. Yet when he befriended Grindelwald things started getting a little chaotic.
The reason Grindelwald is so interested in controlling an obscurus is because he was overpowered by Ariana.
Ariana is an obscurus, and during the fight that ultimately lead to her death, she was able to overpower Grindelwald and take his wand from him, perhaps in her confused attempt to save Aberforth from the cruciatus curse. In the fight, it was Albus that killed her, which is why he was later able to defeat Grindelwald.
This timeline means that Grindelwald had the elder wand before going to Godric's Hollow and meeting Albus. There would have been time because Aberforth says that he was "about to go back to school" after they had "known each other a few weeks." This means that Grindelwald was doing something else at the beginning of the summer after leaving Durmstrang, researching and stealing the wand. He was already aware of the Hallows before meeting Albus so this is possible.
During the fight the elder wand's allegiance shifted to Ariana, and then to Albus. This is why Albus took so long to fight Grindelwald, he knew that it would confirm that it was he who had killed Ariana. It did, and he lived with that for the rest of his life.
Grindelwald took none of the blame for Ariana even though it was his blind ambition that led him towards the desire for an Obscurial to control. If you watched Fantastic Beasts and Where To Find Them then you saw as Grindelwald went after another Obscurial as well, with just as little success and the end result being his imprisonment. That of course would only spark off another round of trouble that we might be seeing in the sequel whenever it comes out.
The sad part of this is that Albus was very much responsible for his sister's death, directly so in fact. Whether it was to gain the power of the elder wand or to put Ariana out of her misery it seems Albus Dumbledore was not quite the kind and reserved man that he came to be later on. But obviously he was a very tortured human being no matter how he turned out.
Save