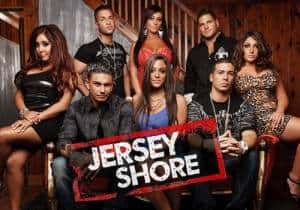 Want a whole new group of annoying Italian-Americans to love/hate? Well, MTV's going to give it to you.
The current cast of Jersey Shore is filming its fourth season in Italy, and then they'll be returning to the U.S. to film the fifth season this summer. After that, they'll be leaving the MTV show and the cable channel will be recasting the entire series, according to US Magazine.
The current stars of Jersey Shore make around $100,000 per episode, and several of them, including Nicole "Snooki" Polizzi, Jenni "J-Woww" Farley and Paul "DJ Pauly D" DelVecchio, have already signed up for their own spin-offs (with Snooki and J-Woww starring together). So MTV has decided that bringing in a newer – and, more importantly, cheaper – cast is the way to go.
The question, of course, is whether the fans will respond well to a whole new cast (especially if they don't really keep any of the original stars). Or perhaps the better question is what the current cast will do after their run on Jersey Shore comes to an end.
Updated: THR is reporting that MTV has told them that they actually have no plans to recast the series: "We love the present cast, and their summer adventures have just begun. We currently have no plans to recast the show," a net spokesperson told THR.
Interesting…did US Magazine and TMZ break the news before MTV was prepared to announce it or did they get it completely wrong? Only time will tell.
clarissa @ tvovermind.com
twitter.com/clarissa373
twitter.com/tvovermind