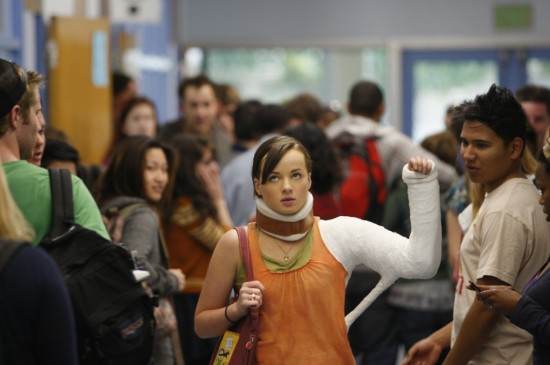 What would you do if you went from nobody to notorious overnight? For most high school kids, this would be a dream come true, as being somebody, even someone feared, is better than being nobody, but Jenna Hamilton (Ashley Rickards) isn't most high school students. After a series of unfortunate events leads her confined to a cast and having to meet with his guidance counselor Valerie (Desi Lydic), Jenna becomes "that girl". Can she handle being on the map for once?
This is the premise to MTV's Awkward, the latest entry into the pantheon of sarcasti-girl media, which the network picked up for a second season on Monday. The next 12 episodes of Awkward. are scheduled to air in early 2012, with a specific date to come (likely) late this year/early next. MTV has been making noise with its scripted content in the last year, recently canceling The Hard Times of RJ Berger, airing the controversial Skins remake, and bringing back classic cartoon Beavis & Butthead after a 14 year hiatus. Next up for the network is Death Valley, a horror-comedy set to debut August 29th at 10:30.
Updated: Awkward is now on a midseason hiatus, having finished up its first run of episodes on September 28
With seven episodes left, we've barely begun to scratch the surface of Sadie's (Molly Tarlov) inevitable downfall, Tamara's (Jillian Rose Reed) quest for popularity, and Ming's (Jessica Lu) struggle to get out from under her mother's thumb, but the more time we get to spend in Jenna Hamilton's world the better.
Awkward airs Tuesday nights at 11:00 on MTV. The first four episodes of the series are currently available to watch on MTV's website.
Have you been watching Awkward this season? Who do you think Jenna should choose: Matty (Beau Mirchoff) or Jake (Brett Davern)?