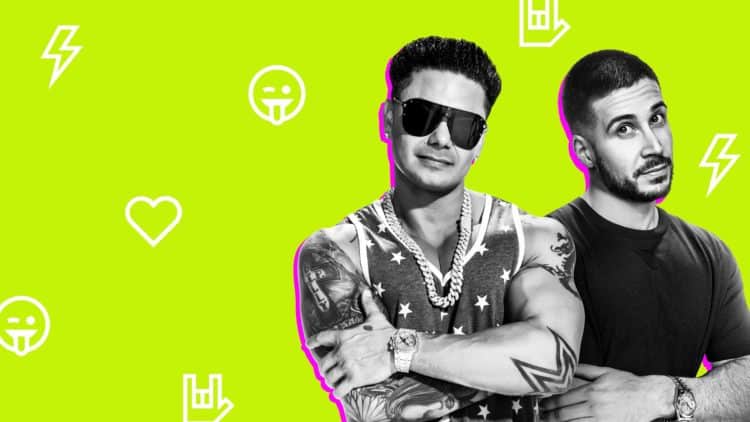 Everybody loves a good prank, but unfortunately they aren't always easy to pull off. That's where Jersey Shore stars, Pauly D and Vinny come in. As the hosts of MTV's new show, Revenge Prank, the pair will work together to help people pull off insane pranks. However, the twist is that the pranks will be a form of revenge. Each person on the show has already been pranked by a loved one, and now they're looking for a chance to settle the store. With Pauly and Vinny's prank prowess and the guest's desire to trick their loved one, this show is sure to be hilarious. Continue reading for 10 things you didn't know about MTV's new show, Revenge Prank. 
1. Some Viewers Think The Show Is Scripted
Even though the show is still very early in its first season, some viewers are always suggesting that Revenge Prank is scripted. Some believe that the pranks are totally fake and everyone involved in the show is acting. Of course, there's no proof to support this but it's definitely not the first time a reality show has been accused of being fake.
2. The Show Is Produced By Gobstopper TV
Although the show airs on MTV, it is produced in conjunction with Gobstopper TV. The production company is based in the UK and New York City and has also produced shows several other shows in MTV including Just Tattoo of Us and Single AF which aired on MTV UK.
3. Guests Will Get The Ultimate Revenge
Each person who appears on the show will be someone who has previously been embarrassed in a prank that went viral. The show is designed to help the person get revenge on the person that pranked them. Pauly and Vinny are pulling out all of the stops to make sure pay back is handed out.
4. People Featured On The Show By Writing In
If you've ever seen an episode of Catfish, you know that people are chosen to be on the show based on emails they send to Nev. Casting for Revenge Prank follows a similar format. People can submit their stories via the show's casting page, and it will be sent to the casting team for review. However, it's unclear whether or not Pauly and Vinny actually have any say in who gets chosen.
5. You May Get Some Prank Ideas Of Your Own
Unfortunately, not everyone can be chosen to be featured on the show. But if you're a prankster in real life, the show could definitely end up being a great source of inspiration. You may be able to get some ideas of your own for ways to prank your loved ones.
6. The Show Has An Official Instagram Account
If you're looking to keep up with the show in between episodes throughout the season, the good news is that you can follow Revenge Prank on social media. The show has an official Instagram account that has already gotten more than 11,000 followers. In addition to posting clips from the show, the account will also have excludes from Vinny and Pauly D.
7. Punk'd Fans Will Love The Show
If you were a fan of the MTV show Punk'd you will probably really enjoy Revenge Prank. In essence, the concept of the show is the same except instead of Ashton Kutcher, Pauly D and Vinny will be behind all of the pranks. The main difference is that the people getting pranked won't be celebrities.
8. It's Unclear How Many Episodes There Will Be
Many of the shows that have premiered during the pandemic seem to have fewer episodes than usual. At the moment, it's not exactly clear how many episodes season one of Revenge Prank will have, but hopefully there will be at least eight to 10 episodes. After all, this is the perfect kind of show to keep us entertained while we sit in the house.
9. The Pranks Are Elaborate
What you see on Revenge Pranks won't just be your average pranks. Each episode will feature a highly thought out scenario that includes many props and actors to make it as realistic as possible. As you watch the show, it'll be easy to see exactly why people fall for these pranks.
10. The Concept For The Show Dates Back ATo 2012
Announcements for Revenge Prank started circulating a few months ago. But apparently the concept for the show has been in the works for nearly a decade. A web page from 2012 has a casting call for a show with the same concept of Revenge Prank. However, the show in the casting call was titled Prank Someone. In 2020, a new casting call came out, again searching for people interested in being on a show called Prank Someone. The name of the show was changed to Revenge Prank somewhere down the line and the concept was tweaked to focus on pay back.