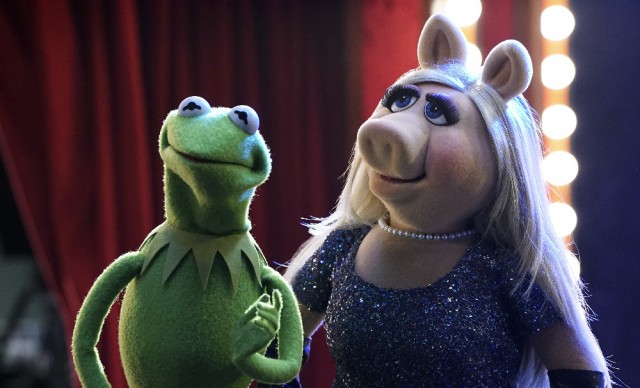 People still love The Muppets, which is good news for ABC. According to preliminary numbers, the premiere of the network's new series The Muppets drew 8.9 million total viewers and a 2.8 demo rating, following behind only The Voice in the 18-49 demo for Tuesday night and giving ABC its biggest series debut since last year's How to Get Away With Murder opening.
The Muppets' success also helped Fresh Off the Boat (airing at 8:30 p.m.) improve upon its Season 1 finale numbers. Fresh's second season premiere garnered 6.1 million viewers and a 1.9 demo rating, up one million in total viewers and 0.4 in the demo from its last episode back in April.
However, the biggest news from last night is the somewhat disappointing premiere numbers from FOX's highly anticipated horror-comedy series Scream Queens. The show, created by the Glee team of Ryan Murphy, Brad Falchuk, and Ian Brennan, only opened to 4 million viewers and 1.6 demo rating, improving upon last year's two-hour block of Utopia, New Girl, and Mindy Project, but only slightly.
In addition to being beat by more than 1.0 in the demo by The Muppets, Scream Queens also fell short of the ratings of the night's other newcomer, CBS' Limitless. The Jake McDorman-led procedural debuted to 9.8 million viewers and a 1.8 demo rating.
Did you watch any of the new series that premiered last night? Which one was your favorite? Comment below and let us know.
[Photo via ABC]