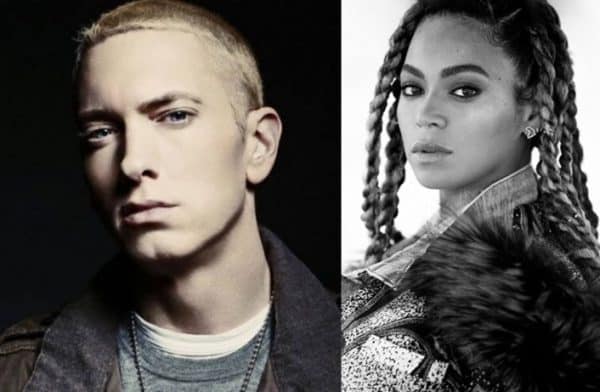 The long awaited new album from Eminem, Revival has finally dropped to audiences all over the world. Fans soon realized just how star studded this album actually was, featuring tracks with Alicia Keys, Pink and Ed Sheeran. The album also features a collaboration with pop superstar Beyonce. While this pairing might seem like an ideal fit for the hip hop world, especially considering her long standing romantic involvement with hip hop legend Jay-Z, fans are only now learning that Beyonce was not the first person who was considered for the spot.
If things had worked out the way that Eminem had hoped that they would, the album would have not featured Beyonce, but a star with just as much clout in the pop world: Adele. Upon writing and listening to the composition for "Walk on Water", a short-standing single to promote the new album, Eminem began to imagine the ideal voice to sing the hook.
Unfortunately for the Detroit born rapper, Adele could not be featured on the album due to a complication with her voice that she is currently working through. While this was upsetting news to say the least, Eminem and his producers had to think about a suitable replacement. When he had to go back to the drawing board, Eminem admits that he knew that only a handful of talented women could have pulled off the song the way that it needed to be done. One of the producers of the album, Mr. Porter, recently put out an interview detailing that the entire staff believed that Beyonce was undoubtedly one of those women.
Thankfully her heavy schedule allotted some time for a collaboration like this, as many fans are genrally at a loss to determine which talent out there can rival the vocal qualities of both Adele and Beyonce. While she was the second choice to be featured on "Walk on Water" many fans of pop ultimately have always supported duets with Beyonce and other known artists from different niches. Her recent collaboration with Ed Sheeran for a new release of his single "Perfect" breathed new life into the track and made it much more widely accepted as single than the song would have been on its own.
The drawback to this particular track was that most of the fans who were eager to hear the song when it was first released have been let down by the end result. Whether this had more to do with Eminem's rapping or with Beyonces vocals, the song seemed to miss the needed magic to be an effective hit. This is a large part of the reason why the song was not released as a promotional single for the album for very long, as it was not seemingly well received through reviews and the charts over the weeks since it was dropped.
It is unclear if Adele's presence on the song might have given it the kind of flair it would need to have been more successful, but it does not seem likely. Most fans were hit and miss about this particular track, some considering it a great addition to an upcoming album and some using the track as ammunition to say that at this point in his career, Eminem is merely phoning it in.