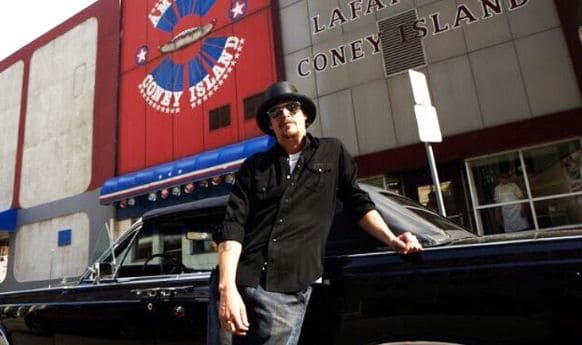 We've seen plenty of celebrities in political office ever since Ronald Regan was President in the 80s.  We have a celebrity President now in Donald Trump.  We had celebrity governors in Arnold Schwarzenegger and Jesse Ventura.  Al Frankin is on the Senate, and the list goes on and on.   This is by no means new but have we ever had a celebrity in politics with the slogan, "Bawitdaba da bang da bang diggy diggy diggy?"   Probably not.  But in 2018 we just might because Kid Rock is reportedly in the running for a Senate seat in Michigan.
According to Billboard, at last weekend's Michigan Republican Party convention, Kid Rock's name was floated to run as a 2018 senate candidate to unseat current Democratic senator Debbie Stabenow. Rock, who campaigned for President Trump and sells hats that say "Make America Badass Again," was born in Romeo, Michigan.
Kid Rock hasn't officially mentioned his name in any running and he considers himself to be a libertarian.   However, don't count this out at all.  Don't.  The way our politics runs today, I could see CeeLo landing in office and wearing his gold outfit on a daily basis.   Kid Rock would appeal to a huge mass of people in Michigan but can you even imagine this guy wearing a suit?  I feel like he'd be the pioneer in changing the political dress code to allow leather hats and ripped jeans.
Photo via Instagram