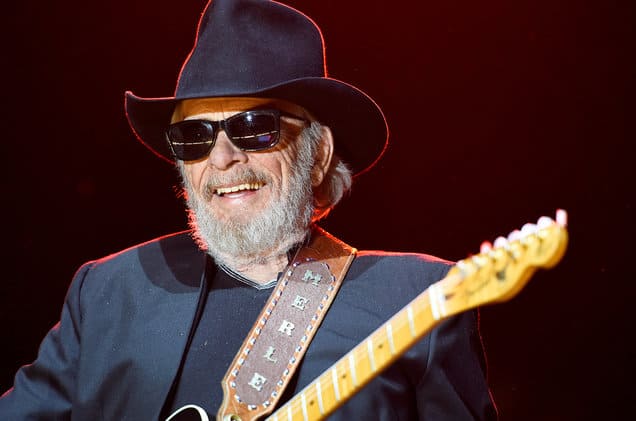 Merle Haggard could be called the working man's country singer in many regards since a lot of his music had to do with the common, everyday issues that people seemed to face and didn't even really go beyond that scope. He was incarcerated a few times as a younger man after the passing of his father, but eventually turned his life around and created a very impressive music career that saw him become one of the most loved musicians in history. He wasn't shy about putting certain lyrics into his songs that were definitely anti-government and were at one point in stark opposition to the Vietnam War during that era. Like so many people he had his own style and his own way of doing things, which is what helped to make him unique and stand out in the crowd. Merle Haggard passed in 2016 from complications due to pneumonia.
He lived life according to his rules, and by doing so made himself a legend in the eyes of many people.
5. Platoon-Okie from Muskogee
The horrors of the Vietnam War are scars upon the minds of those who were there that might never fully heal. The best many can hope for is that the memories will eventually dim and one day seem like they happened to someone else, but it's a dim hope. Haggard's music was often in opposition to the war and he made no mistake to make that a known fact.
4. The Waltons-Nobody's Darling
The Waltons was as beloved a show as any and the inclusion of Merle Haggard in this episode was something truly special. Having a noted celebrity, especially an entertainer and musician on a regular show was and still is something that's prized among fans and those that are regulars on the shows that host them. Back in the day it was just a much of a treat as it is now.
3. Merle Haggard-I Take A Lot of Pride In What I Am
Haggard had a rough childhood and had to earn his way into the spotlight, and a lot of his songs seem to allude to this since he has no trouble telling a story with his music. But the obvious part of this is that he did make a life for himself and moved past his troubled times to create something born of trials and tribulation that managed to reach an entire generation with its message.
2. Merle Haggard-The Fightin' Side of Me
Haggard was the kind of guy that didn't go down easily as you can tell from the feel of his songs. He fought for every inch he had and wasn't about to give it up. He had his fair share of setbacks in his career and even had to make a comeback at one point in order to keep and retain the fame he'd grown used to, but the point is that he did it, and he made it work.
1. Merle Haggard-The Bottle Let Me Down
Life wasn't easy in many ways for Merle Haggard but he still made do and he did what he felt was necessary. He wasn't perfect, he had issues just like anyone, but he did what he could to make the best of them. That's about all anyone can do in this life.
The man and the legend might have been two different things, but the legend is what people will remember.