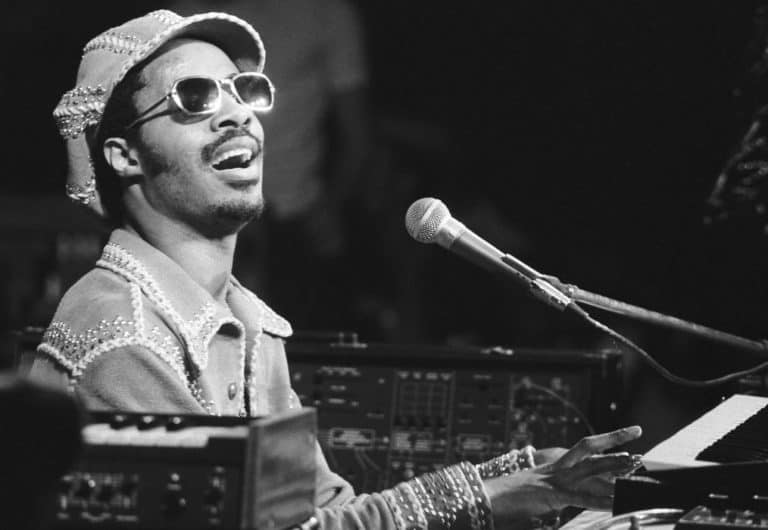 http://www.billboard.com/articles/news/festivals/7973873/stevie-wonder-takes-knee-2017-global-citizen-festival
Blind since birth, Stevie Wonder still had no trouble becoming a known personality since he was so naturally gifted when it came to his musical talent. He was picked up as a rising star at age eleven by Motown's Tamla label and has been performing ever since in one venue or another, always with Tamla. He's been an inspiration to millions and has sold millions of records worldwide. Most recently he even showed his sense of unity by getting down on both knees with his son Kwame at the Global Citizen Music Festival in New York City. His music has inspired entire generations and has been and still is a big part of pop culture.
Here are a few examples.
5. Sing!-Faith
Sing! was one of the most absolutely uplifting and meaningful cartoons of the decade without any doubt and it features at least a couple of Stevie Wonder's songs. It's a movie that is geared for kids but can deliver a one two punch of emotion that even adults can admit is something hard to find nowadays. If you find the need to believe in yourself this is the movie to watch.
4. Scandal-Don't You Worry About A Thing
This show is probably one of the top favorites and its soundtrack does have something to do with it. The mere fact that some of the most famous artists consent to allow their music to be used in movies and TV is a benefit for them and for the show, creating a benefit that both are glad to receive. Also it helps the show to gain a little more authenticity as people tend to relate better with a program in which the main characters enjoy the same things they do.
3. Carpool Karaoke-Superstition
I kind of wonder how many celebrities James Corden has had in his car at this point and how many more he's planning on getting to ride with him and sing their songs. At the very least it looks like everyone is having a good time and are more than willing to participate. Stevie was even giving him driving hints at one point, which is pretty funny.
2. Sons of Anarchy-Higher Ground
Some people really miss this show and I should know because I'm one of them. It always had some of the best music that people didn't listen to anymore or just didn't know about. Despite the fact that it kind of became a biker soap opera it was still a decent show amidst a bunch of them that were nothing but unending drama without even a hint of real conflict.
1. Shrek Forever After-For Once In My Life
Who could ever love an ogre? That would be just about anyone and everyone that ever watched Shrek. Rumor has it that there's going to be another one coming out which is kind of odd considering that this final movie kind of wrapped everything up very nicely. What possible danger could be coming for the big green guy now? Also, who would be that foolish?
Stevie Wonder is, as it's been said so often, a musical genius.
Save