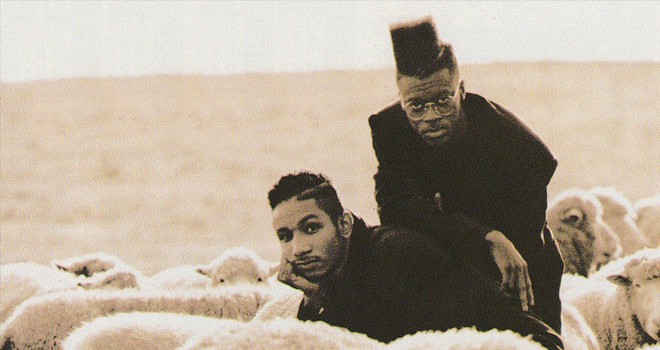 Black Sheep might not be known all that well any longer but their music has certainly endured since it's been featured in many different films and videos. In 1989 the duo of Andre 'Dre' Titus Vargus and William 'Mistah Lawnge' McLean became the first hip hop act to appear on The Jay Leno Show after Johnny Carson had retired. They were widely lauded for their unique sound and style and brought to the hip hop genre a new beat that was quickly accepted and is still listened to today. The duo split in 1995 and then came back together in 2000 until around 2002. As of now they've been back together since 2006.
One of their songs has gotten a lot of attention over the years.
5. You Got Served-The Choice Is Yours
You Got Served is a movie about how a bunch of street dancers battle constantly to make money and keep their reputation alive as they take on all comers and usually smoke every one of them. When one of their own turns on them however they're swiftly outdone and need to mount a comeback quickly. However when tensions arise within the group it becomes obvious that something needs to change if they're going to get their rep back.
4. Kia Commercial-The Choice Is Yours
This is hands down one of my most favorite commercials of all time. Don't ask me why, but there's something about rapping hamsters that just seemed so cool at the time it came out that I've watched this commercial more than a dozen times at least. Sometimes something comes along that grabs your attention and you don't know why, you just know that you like it.
3. Trespass-On The Wall
This is one of the lesser known movies featuring Ice-T and Ice Cube when they were both younger men and known as gangsta rappers. The film isn't that bad really but I can see why it never really got known. The whole thing is one big mixup that occurs when a gang of thugs kills someone that double-crossed them and then sees that two firemen who were in the wrong place at the wrong time witnessed it. The hunt for gold becomes a secondary plot very quickly.
2. The Bloodhound Gang-The Choice Is Yours
The Bloodhound Gang was a band that was immensely popular back when I was in high school. Yes I just dated myself, but I can recall that they would take on just about any song and make it into something funny if they got the chance. Their entire act was meant to make people laugh it seemed and they did a good job at it. Unfortunately it seems like they ran out of material after a while.
1. Step Up-The Choice Is Yours
This is one of the films that helped establish Channing Tatum as a serious actor. He's almost always been seen as the poor street kid that has to work for everything he gets in movies, but this one showed him stepping up when he needed to in order to get what he wanted. It also showed that he's got some serious moves.
Do-da-dippity. (mic drop)