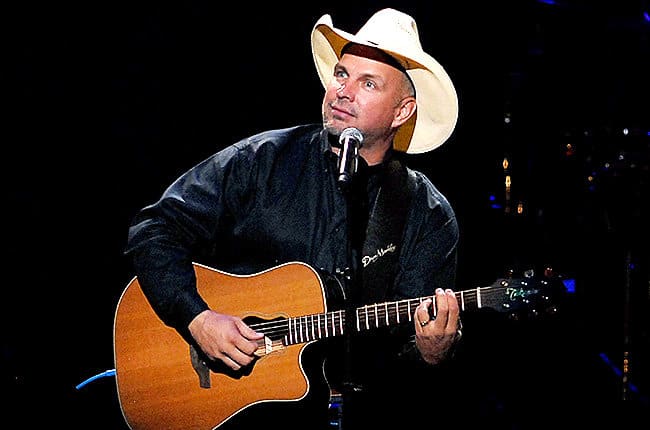 Whatever you think about him it's obvious that to many people Garth Brooks is a living legend among entertainers. He's done so much in his career that at this point you really have to think of what could he possibly do next except the same thing that he's been doing, which is to deliver a performance that has his fans screaming at the top of their lungs for more. I mean really, he reached the top of the food chain in country music, he decided to make a run at being a different personality to attain a new level of fame, which didn't really work, and he's been on countless TV shows throughout his career. How much more could this guy do? I think it's safe to say at this point that he can probably sit back and strum a few chords now and again and be completely content knowing that he's won over a great deal of the world with his music.
Here are just a few appearances and a few pieces of music that prove he's that great.
5. American Music Awards – People Loving People
He knows how to work up a crowd before the song even begins. As soon as he hits the stage people are screaming and begging for more. When he starts to sing they go so quiet, meaning that they're listening and paying full attention to his voice. That's the type of reverence that a lot of performers strive for their entire career.
4. Frequency – When You Come Back to Me Again
If you're into movies that go back and forth and back and forth and forth again then this is definitely your type of film. Frank and his son John communicate across the years via an old radio that was found in Frank's possessions when John and his friend decided to go through them. Eventually father and son reunite through use of the radio as a means of righting the wrongs of the past.
3. Saturday Night Live (with Kiss) – Hard Luck Woman
SNL has had it's fair share of musical performers but this was a rarity considering that two greats of the musical industry came together in a way that wasn't quite as common as many people believe. Rock and country have been coinciding for a while, but in this manner it's been seen to be absolutely magical. Kiss and Garth Brooks together is nothing short of impressive.
2. Muppets Tonight – We Shall Be Free
You've got to wonder just a little bit what performers that are invited to the Muppets show are thinking when they're up on stage. Are they singing more to the camera than to the puppets or are they really focusing all their attention on the puppets as a means of disciplining their reactions and entertaining the people they know are watching? Just an interesting thought.
1. Beavis and Butthead – The Thunder Rolls
….. Sorry, I had to stop laughing long enough to write. The reference to Curly from the Three Stooges just got me rolling so hard I couldn't help myself. A lot of celebrities have been featured on the Beavis and Butthead show via music video, but Garth Brooks was probably one of the most unlikely of the time.
Yep, Garth Brooks is still an impressive musician, and likely he will be for some time to come.
Save