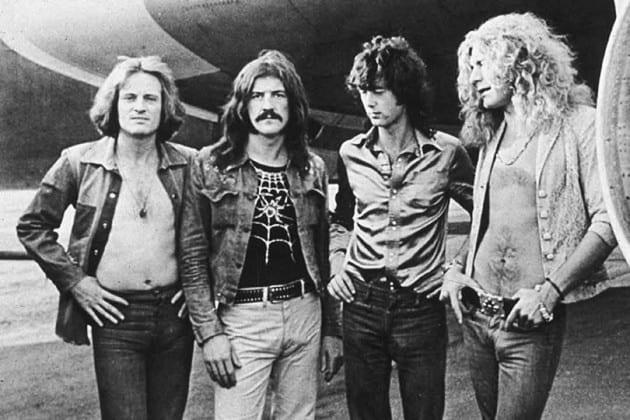 Stairway to Heaven is a classic song, and it's been used extensively in TV and movies since its release. It's creation was a moment of inspiration that came to two of the band members, Jimmy Page and Robert Plant, simply found something that worked and ran with it as much as they could. It was a difficult track since it introduced three different sections, beginning with an acoustic sound and moving into electric. According to Page and Plant it was a matter of fitting every piece together and then belting out the lyrics so that they would flow with the sound. Both men were awestruck when they finally put it all together and played it back, finding that it was one of the most momentous tracks they'd ever heard and was something that both of them could believe was already worth its weight in gold so to speak. Decades later their inspiration is still considered to be one of the hottest songs to have ever been released to the public and a testament to the greatness of the band.
Here are a few examples of how it's been used.
5. Ann and Nancy Wilson
A lot of people that have grown up listening to Led Zeppelin or admiring them from afar have done their best to learn this song and perfect it. This tribute by the two women from the band Heart was simply amazing and so well done that they might have been able to roll with the band back in the day. It's so great to hear when another musician master's another's work in this manner.
4. Wayne's World
So really you only get to hear one second of it before Wayne is cut off due to the store's policy on not playing the song. The reason behind this is pretty simple, it's a longer song and takes a lot of time to get through. So it's reasonable to assume that the guitar isn't going to be let out of its case for anything other than a short little number to allow a prospective buyer to say yea or nay.
3. 60 Minutes
The inspiration that came for this song had to be right then and there for the guys to grab onto it and run with it in such a manner. I can only imagine that song ideas are about as fleeting as story ideas. When they come you've got to hope they either stick in your head long enough to jot them down or you might lose them and have no idea what you were just thinking about.
2. Channel 4 News
This was a big deal since Led Zeppelin was actually being sued for stealing their legendary track from another band. When listening to the audio the two tracks do sound similar but there are notable differences that show up between them which should have been enough to get a lawsuit thrown out or at least reconsidered for its validity. There's nothing to say that anyone's lying or that plagiarism wasn't evident, but insofar as most people know the case was settled.
1. Led Zeppelin
Always go back to the source for the best show and representation of a song. They're the ones that did it first and they're the ones that do it the best. Nothing beats the real artist for a real rendition of such a legendary song.
This song still gives me a chill up my spine every time I hear it.