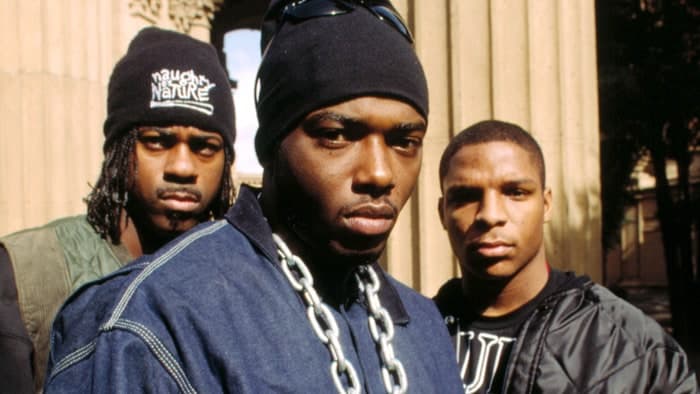 If you grew up in the 90's then it's possible that you grew up listening to Naughty By Nature. They came together in 1989 and started getting popular as the 90's rolled on. A couple of songs were what really drove them to fame but they had a list of hits that kept people listening for a little while. The group broke up between 2000 and 2002 over financial disputes and then because their newest material didn't really catch on with fans. In 2013 it looked like they were mounting a comeback but since the original group was unable to capture what they had in the beginning it's not likely that they'll be able to produce any new material.
That's too bad, their initial hits were something that still gets a lot of people moving when it plays.
5. Lip Sync Battle-OPP
Samara Wiley comes off those steps and gets busy with it when she performs this song. Going behind the scenes you can see just how much preparation goes into each song and how long it takes to get the show up and running. It's worth it though when you see the performances and how well they're put together. Coming off of her fame from Orange Is The New Black this was just flat out awesome.
4. The Wolf of Wall Street-Hip Hop Hooray
There's something peculiar about rich white people dancing to a hip hop song, even in a movie. It could be that they were supposed to look like they had no rhythm whatsoever or it could be that they're emulating real life people that probably couldn't dance if their lives depended on it. All I'm saying is that despite being perfect for the moment it's still just kind of awkward.
3. Jarhead-OPP
For those guys being stuck over in the desert during Operation Desert Shield life had to be kind of a drag at times since it seems like there was nothing much to do but remain vigilant at all times and prepare, prepare, and prepare again. Stuck in the middle of nowhere with nothing to do but maintain a constant state of alertness would drive just about anyone insane, and could make them desperate to find ways to entertain themselves.
2. Fresh Prince of Bel-Air-OPP
Will Smith was insanely awesome when it came to being the Fresh Prince. His character wasn't always that bright though since buying a car and not purchasing any insurance for it is the act of a guy that really doesn't know what he's doing. If they were going to show the real life way of handling it Uncle Phil would have likely taken the keys and locked them away where Will couldn't get them. And once he drove it anyway? Get a club, a boot, something, anything to keep that car from moving.
1. Who's The Man?
These two are probably the last guys you'd want patrolling your neighborhood since they can't even figure out how to cut a person's hair without making them look like they came off second in a fight with a hedge trimmer. The movie does feature a lot of great talent from the hip hop genre though.
It's too bad they parted ways, Naughty By Nature was one of the best groups to come around in a long time.