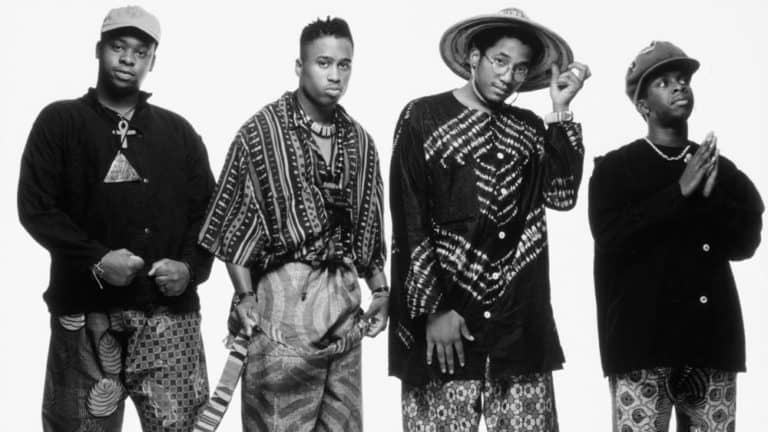 A Tribe Callled Quest was considered to be one of the most popular rap groups in the 1990's and was also one of the most successful during the same time. They weren't known for sticking together for long periods of time but did come together for a few reunions before finally hanging it up in 2016. Their music was more of an alternative rap that arced away from the other music of the time and delivered a much more positive beat that differentiated them from the rest of their genre. A lot of people knew about the group but likely didn't listen to much of their music since while it was featured in films and TV the group didn't always go for the mainstream like so many others. They had their fair share of time in the spotlight and inspired a great many people during their career but eventually the party had to end.
Thankfully they left a lot to remember them by.
5. Poetic Justice-Bonita Applebum
Justice and Lucky thought they couldn't have been more different when in truth they were far more alike than they realized. It takes a long road trip and a few mishaps along the way for them to realize just how similar they really are. When tragedy hits Lucky can't help but lash out but thankfully he comes to his senses later and apologizes, creating a bond with Justice that's stronger than they understood at first.
4. Kids-Oh My God
If you wanted a film that had to do with kids acting stupid then this is it. No supervision, no rules, and no one to tell them that they're gambling with their lives seems to be the theme. Unfortunately this is a very real concern in the real world and this movie simply gives it as it is in order to show people the dangers of unprotected sex and a life spent without anything resembling consequences.
3. The Wayan's Bros.-Electric Relaxation
The Wayan's Bros. show was kind of short-lived which was too bad since it was extremely funny. The only issue here is that Marlon and Shawn Wayans managed to come up through their brother Keenan's show, In Living Color, and then kind of started to fade out the longer they went on. They would go on to movies like the first two Scary Movie films and then White Chicks but eventually only Marlon kept showing up in films while Shawn kind of disappeared.
2. High School High-Peace, Prosperity & Paper
This is one of the many spoof movies that was made during the rise of such films and was pretty funny but never got much attention. It spoofs films like The Principal, Dangerous Minds, Lean On Me, and even Stand and Deliver. The whole idea of an inner-city school where the kids are uneducated and headed down the wrong path in life is punctuated by hilarious comedy and slapstick humor that made it somewhat memorable.
1. A Tribe Called Quest-Can I Kick It?
The real death knell of the group seemed to come when Phife Dawg, one of their original members, passed away suddenly before their last album was completed. The group did finish off the album but decided that they were done not too long after.
During their time they were one of the more talked about groups around the US.