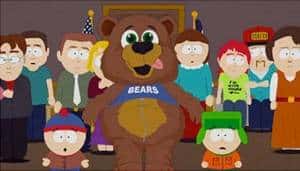 For those of you who don't watch South Park, let me catch you up real quick. Last week's episode was the 200th of the series, and its creators, Matt Stone and Trey Parker, pulled out the big guns. The premise of the episode focused on every single celebrity who has ever been mocked by the town, coming together and preparing to file legal action against the town. The celebrity crusade is led by none other than Tom Cruise, who promises that he will end the lawsuit only if the town can bring the celebrities the Muslim prophet Muhammad. The episode follows a similar situation from the season ten story arc "Cartoon Wars," which focused on Comedy Central's refusal to allow the show to display the Muslim prophet on television, due to controversies stemming in Europe.
The plot of the episode takes a turn when the characters learn that Muhammed has a secret "goo" that makes him immune to ridicule. From here, it's an all out war to capture Muhammed and take his goo. Muhammed never appears in the episode, other than to be shown in a bear costume. Despite not actually appearing, this tease has caused some public outcry from the radical Muslim website RevolutionMuslim.com. The site has let their displeasure of the South Park episode be known, even going as far as telling Stone and Parker that they should watch their backs.
We have to warn Matt [Stone] and Trey [Parker] that what they are doing is stupid.

They will probably end up like Theo Van Gogh for airing this show.

This is not a threat, but a warning of the reality of what will likely happen to them.
Those were just a few of the statements gathered from the site by the New York Daily News, before it suddenly was taken down. A visit to the site will now just reroute you to a search engine page. The Theo Van Gogh quote is a reference to a Dutch man who was murdered after creating a cartoon featuring the Muslim prophet.
As mentioned previously, the situation is similar to the one South Park faced a few seasons ago after teasing to air an image of Muhammad. No such image was aired, and to my knowledge, no threats were ever made. But for those keeping score of how ridiculous this all is, we should note that back in the season five episode "Super Best Friends," the featured Muhammad as a character, and no one said a word.