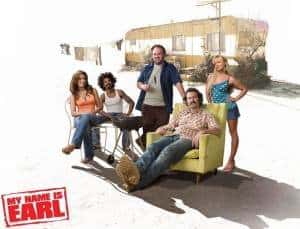 In the world of TV land we almost never say never. As soon as you say something is never going to happen you can rest assured that it probably will. However, in the world of television you also rarely get such solid confirmation as a studio rep TELLING you that something is never going to happen. TVOvermind wrote the other day that TBS was in talks with My Name Is Earl studio reps from 20th Centry Fox, and very close to cooking up a deal that would have put new episodes of My Name Is Earl into the TBS comedy lineup. We are sad to report that those talks have ended, and Earl will not be showing up on TBS anytime soon, nor any other station it appears.
A studio rep for 20th Century Fox released a statement saying , "While we had hoped to find a way to produce additional episodes for TBS, in the final analysis we simply could not make the economics work without seriously undermining the artistic integrity of the series. As none of us, [series creator] Greg [Garcia] included, want the show to go out on anything but a high note, we regret that we must put to rest any speculation that Earl will continue. We are grateful to everyone at TBS for their enthusiasm for the series and wish to offer our heartfelt thanks to the cast and crew of My Name is Earl for their incredible work."
It doesn't get any more solid than that, folks. The most interesting element in all of this is that not once has there been any news on FOX picking up the series. 20th Century Fox makes Earl, and you would think with syndication and DVD dollars rolled in, it would be in their best interest to continue the series on their network, but apparently even FOX thinks it's time for Earl to go. Let us know what you think in the comments below.
Source: The Ausiello Files