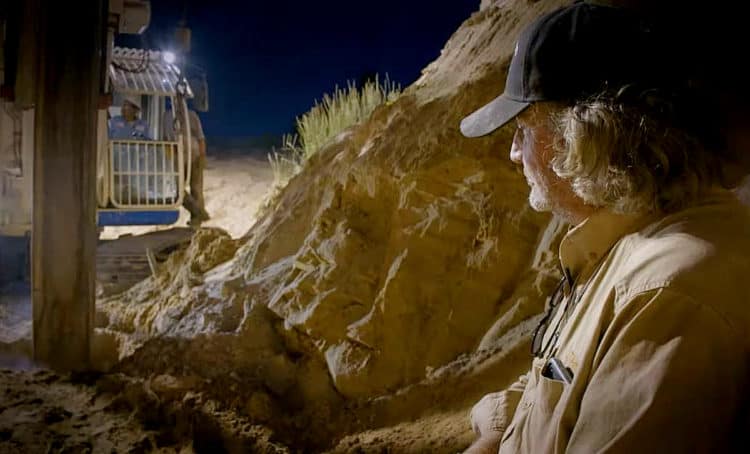 Looking for treasure is something that sounds like a silly hobby to some people, but to others it's a legitimate way of life. After shows like The Curse of Oak Island have brought so much success for the History Channel, Discovery is hoping to recreate some magic of their own. The network's new series, Mystery at Blind Frog Ranch seeks to put a different spin on the typical treasure hunting show, however. Everything at Blind Frog Ranch isn't what it seems the Duane Ollinger and his team will find out if rumors of paranormal activity in the area are true. If you love a good mystery, this is one show worth checking out. Keep reading for 10 things you didn't know about Mystery at Blind Frog Ranch.
1. Duane Ollinger Spent Years In The Oil Industry
Hunting for treasure on haunted property isn't exactly where Duane's experience lies. Prior to purchasing Blind Frog Ranch, he spent years working in the Texas oil industry. While it's not exactly the same thing as looking for gold, it does have a lot of similarities.
2. Chad Ollinger Sold His Business To Work With His Dad
This adventure isn't just a hobby for the Ollingers, they are all in. In fact, Chad sold his crop dusting business and his home in Texas to relocate to Utah in hopes of uncovering lost treasure. Some people may think this is a little extreme, but it shows just how dedicated they are and how seriously they're willing to take this project.
3. Some Of The Locals Are Nervous About What The Ollingers Are Doing
Blind Frog Ranch has a long and spooky history, and it's not one that many people are comfortable messing with. When asked if they've run into any locals who are exactly thrilled about their project, Chad told TV Show Ace, "that is what we hear from the majority of the people we talk to, whether it's native Americans or just like local town people like that. They are very hesitant and they're worried about what we're doing. No doubt about it."
4. Duane Ollinger Has Invested A Lot Into This Endeavor
Chad isn't the only one who has made some sacrifices to see this project be as successful as possible. Duane has invested a lot of money. Although we don't have an exact dollar amount, there's no doubt that purchasing the land and all of the tools and machinery needed to explore it probably cost him a pretty penny.
5. Treasure Hunting Isn't Always Safe
From the outside looking in, treasure hunting may look like this fun and exciting experience that could possibly result in a huge pay day. In reality, however, it can be very dangerous. Blind Frog Ranch has several caves and caverns that will need to be explored, and accessing those locations can be very dangerous.
6. There Is More Than One Spooky Story Associated With The Land
If there was just one scary story associated with the land, most people would be able to brush it off. But Blind Frog Ranch has a very long history of curses and other ghostly happenings. With these stories dating back to the 1800s, it goes without saying that they've become ingrained in the people who are familiar with the land.
7. The Property Is Near Skinwalker Ranch
Skinwalker Ranch is another property in Utah that is notorious for stories of paranormal activity including alleged sightings of UFOs. Stories about the property were documented in a series on the History Channel called The Secret of Skinwalker Ranch which aired in 2020.
8. There Are Show Extras On The Discovery Website
Are you the type of person who enjoys keeping up with shows in between episodes? If so, I've got some good news for you. Although Mystery at Blind Frog Ranch doesn't appear to have its own social media accounts, viewers can find additional content directly on the Discovery website.
9. Chad Was Originally Only Supposed To Help With Underwater Drones
Chad plays a major role in the Blind Frog Ranch team, but that wasn't originally initially supposed to be the case. He told TV Show Ace, "He [Duane] needed me to operate the underwater drones, and that's kind of where it was at first. And then it turned into a lot bigger roles than that."
10. The Cast Is Looking Forward To The Possibility Of Another Season
Since Mystery at Blind Frog Ranch is still so early in its first season, there hasn't been any announcements on whether or not it will be brought back for a second season. The team, however, is hoping that will be the case and so far the fans seem to be excited about it, too.