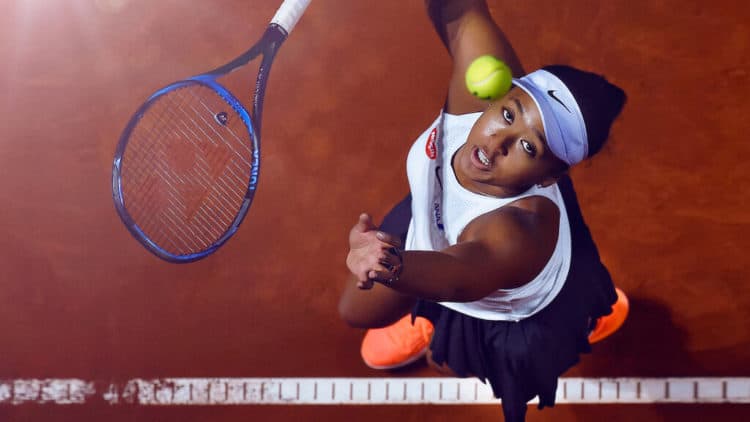 Naomi Osaka began playing tennis at a very early age. Inspired by Richard Williams and how he managed the Williams sisters at the 1999 French Open, Osaka's father, Leonard Francois took to using the same skills to mold his daughter into a star. On emulating Richard Williams, Francois said, "The blueprint was already there, I just needed to follow it." And follow it he did. Despite his lack of experience, he took to coaching Naomi and her sister, Mari. Through the years, he sought good grounds for the sisters to train, eventually ending up at the Pembroke Pines public courts where she camped for a while.
While Naomi and her parents lived and trained in the United States, her parents made the conscious decision that as tennis players, their daughters were always going to represent their mother country, Japan. Tamaki Osaka and Leonard Francois had moved from Japan in 2000 and settled in New York. Asked what prompted them to make the decision, the pair said,"  She was born in Osaka, and was brought up in a household of Japanese and Haitian culture."
Tamaki Osaka and Leonard Francois' intentional upbringing of their children bore fruit when, at the age of 16, Naomi floored former US Open champion Samantha Stosur when they faced each other at the 2014 Stanford Classic. That marked the beginning of her rise into becoming tennis royalty and battling it out with who's who in the world of tennis. 2018 was Osaka's biggest year yet, as she clenched her very first WTA title. Later that year, she gained worldwide recognition when she came face to face with her idol and multiple Grand Slam singles champion, Serena Williams.
Since making history as the first player of Japanese origin to win a Grand Slam singles title, Naomi has gone on to become a key figure in sports. In 2020, she was one of Sports Illustrated's Sportspersons of the Year. She appeared on the Times list of the most influential people, and, with a massive following, is an activist in her own right, championing and supporting causes such as Black Lives Matter and mental health.
Making Mental Health A Priority
23-year-old Naomi Osaka is perhaps the future of the ongoing mental health debate, especially when it comes to working culture. In May of 2021, Osaka withdrew from the French Open, citing mental health as the reason for that decision. Her statement read: "I think now that the best thing for the tournament, the other players and my well-being is that I withdraw so that everyone can get back to focusing on the tennis going on in Paris…More importantly, I would never trivialize mental health or use the term lightly. The truth is that I have suffered long bouts of depression since the US Open in 2018 and I have had a really hard time coping with that."
Osaka pointed out that she is known as an introvert who prefers to have her headphones on to help with any anxiety she may feel. She also mentioned that even though most members of the press have never so much as given her a hard time post-game, the anxiety she feels manifests itself right before conversations with the media. Those reasons made her opt to prioritize self-care and take a good amount of time off the court.
For opting out of a press conference, Naomi was fined a sum of $15,000. Calm App however came to her rescue when it revealed that it would offset the pending fine.  The app also offered to take care of any future fines thrown in the direction of any tennis players who would opt out of the press in the future. Naomi Osaka further voiced the need for prioritization of mental health through a Time Magazine piece titled 'It's O.K to not be O.K." Amid the chaos, Osaka's debut docuseries in partnership with Netflix was released.
Netflix Docuseries
On July 16th,2021, Osaka partnered with Netflix to release her debut self-titled docuseries. Through a statement released to her 2.2 million Instagram followers, Osaka said: " So this had been in the process for the past two and a half years. In light of everything that happened recently, I was terrified of this being released. This isn't like a tennis match where I win or lose and from there people can say whether I did well or not. This is a look into my life from certain time periods and I can't fight the feeling of wondering how it will be received." Naomi further revealed through the post that the documentary was a reflection of who she was, and it had pieces that she hoped the audience could be able to find relatable. She was hoping the documentary would open the audience's eyes to why she makes the choices she does. At the end of her statement, she said she felt both excited and nervous about the documentary.
Almost immediately, Naomi's worries were thrown away (or so we'd like to hope) by the love that was poured into the comments section. Netflix CMO Bozoma Saint John led the pack when she expressed how much the team loves Naomi. Veteran actress Viola Davis also showed her support, saying," Watching now.. honest, brave, inspiring, generous, heartfelt…You! Congratulations." More familiar faces showered Naomi with love including actress Yara Shahidi, Screenwriter Lena Waithe, and Chef Loria Stern.
As she takes time off and prepares for the Olympics, Naomi Osaka continues to live her truth. Most recently, she appeared on the covers of Vogue Hong Kong and became the first sportswoman of Japanese descent to appear on Sports Illustrated. With her being vocal about her truth, she's drawn the support of other young people in limelight including poet Amanda Gorman, who rose to fame following her recitation of 'The Hill We Climb' at the presidential inauguration. Just like Gorman says in her poem, ' For there is always light if we are only brave enough to see it, if we are only brave enough to be it,' Naomi Osaka is courageous enough to see the light and be it.