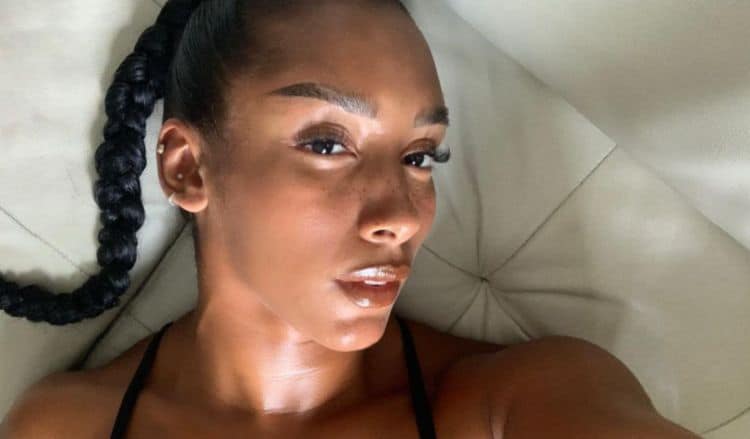 If the name Naomi Sharon is unfamiliar to you, let's start with the name Drake. We all know that name. It's one of the most famous names in the music industry – or in all of Hollywood and the rest of the world. Drake is one of the most famous singers around, and he is someone who is in the press right now for more than just his talents. He's been accused of breaking up the long engagement of Naomi Sharon and her husband, and the husband is not taking things lightly as these accusations continue to roll.
1. Sharon Met Drake in the Studio
Naomi Sharon and Drake allegedly met in the studio while he was working on an album. The two crossed paths at the studio in an unknown capacity, and it appears that their meeting was more than a simple chance encounter. Her ex-fiance alludes to the two of them engaging in adultery around the same time.
2. She Has a Caribbean Heritage
Naomi Sharon is many things, and among those things is both Caribbean and Dutch. We don't know specifically where her family is from in the islands for her to share this heritage with them, but we do know that she carries this lineage from either one or both sides of her family.
3. She's From the Netherlands
While her heritage is Dutch and Caribbean, she was not born or raised on the islands. She was born in the Rotterdam, Netherlands. She was born on March 4, 1995. It seems she currently resides in the Netherlands when she is not working with Drake in North America.
4. She Tried Acting
During her college years, she was in theater school. She went for three years before she made the decision to leave behind her theater classes and try to land roles. She was successful in landing roles in state productions of shows like "The Lion King," as well as "Dreamgirls". She didn't have leading roles, but she did end up performing.
5. She's Always Loved Music
Naomi Sharon is a musical woman by nature. She was born and raised in a household in which music was of the utmost importance, and she's always felt a pull in the direction of music her entire life. She's clearly talented to have Drake fly her out to see him to sign her for a record deal.
6. She's Not Commenting
Despite the fact that her now ex-fiance posted to Instagram that they are no longer together and told the world that she had an affair with the man who flew her out to work on a new album, she is not saying anything about the situation. She did, however, turn off all her comments and ability to post on her Instagram photos.
7. She Worked Out With Drake
If the rumors are true, there's been a sighting of Naomi Sharon and Drake together. It was one time, and it was at the gym. It seems that someone spied the two working out together, which only added fuel to this already hot fire. She might only have a working relationship with him, but it seems her fiancé – or ex – does not believe that is the case.
8. She's Private
Naomi Sharon is not private in that you cannot access her social media, but she is private in that she isn't discussing anything, nor does she share much of her private life with the world. She keeps her private situation largely to herself, and it appears she will do so now more than ever after this rumor began circulating.
9. She Planned Her Wedding
No one knows how much of her wedding was already planned or when she was slated to get married, but it seems she was already in the motion. Her ex posted in his long-winded announcement that he is currently single that they'd already planned their wedding. They were together for more than eight years, engaged, and very close to tying the knot from the words that he wrote in the post that has now been set to private.
10. Her Ex is Trolling Drake
It also seems that her ex is not happy with this situation even after the breakup. While many might just ignore all of it and move on from it, he's not doing anything of the sort. He's posted a photo of himself online sitting in a jet holding a tumbler with the caption, "I don't drink Champagne papi," which is something that the world feels is a dig at Drake – his username being Champagne Papi online.