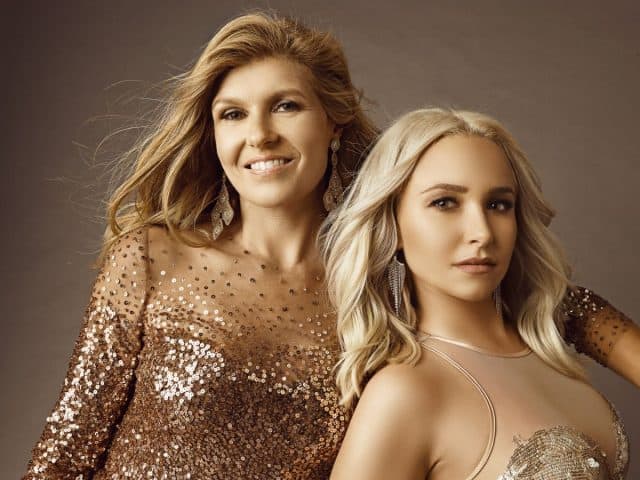 It's not even the New Year yet and we've been blessed by 7th hour save CMT pulled off by resurrecting Nashville when it was cancelled by ABC. Fans of the country music drama were devastated when it seemed the show would not return to the small screen, but luckily our hopes were lifted by a switch to a new home. Now under the helm of new showrunners Marshall Herskovitz and Ed Zwick, our favorite country crooners shall live to sing another day. Unless of course the new emotional direction Nashville takes includes the unexpected demise of Juliette Barnes, whose fate was left up in the air when her plane went down at the end of last season. Did Juliette survive, and what are the consequences for her friends, family, and the city of Nashville?
Sorry to say that anyone who hoped that Juliette somehow made it off the plane before it crashed watched the opening minutes with tears in their eyes. Juliette was bloodied and broken in a field 20 miles outside of Nashville, the only survivor of the crash. Three weeks later Juliette is recovering with Glenn, Avery, and Cadence by her side. Two of her vertebrae were shattered, which means Juliette will be in a wheelchair for the foreseeable future. That doesn't mean Juliette is paralyzed, but the recovery will be long before they can know for sure. Juliette remembers bits and pieces of the crash, but mostly she remembers an angel saving her life. Juliette is a master of self-hatred, but Rayna has to point out that an angel wouldn't have saved her if she wasn't worth saving.
Now Maddie may be home, but she's still behaving like a brat. She's extremely defensive when Daphne tries to help with her writer's block. Bon Jovi didn't earn millions off of "It's My Song" screamed at people. Maddie is lucky she has such understanding parents, because that tone wouldn't be tolerated in other households! Scarlett has to be the one to teach her niece a little musical process called Collaboration (seriously Maddie, speak to the greats some time if they can get past your attitude). Once Maddie's calmed down, she asks Daphne to sing the chorus she wrote. Maddie and Daphne really do sound better together than apart, but Maddie needs to get over this teenage angst pronto!
The good news is that Maddie is free from that horrible contract and living back at home. The bad news is it cost Rayna $275,000 to do so. Not to mention The Ex's were kicked off Autumn's tour, and it's going to be very difficult to get them on any other established tour which. Rayna's label isn't in deep jeopardy yet, but it soon will be if Rayna can't find a way to bring in some capital. Thus she has to fly to Silicon Valley to schmooze a tech billionaire named Jack Wells. Flying on a private plane was a bad idea so soon after Juliette's crash. Rayna barely makes it through the plane ride with just a panic attack to show for it. Rayna was only brought out to impress Wells, which shows because no one else in the crowd even knows who she is. The good news is that Wells is a Rayna James Superfan. He slightly makes up for everyone else's disinterest, even asking why Rayna isn't making music anymore. That's a question Rayna has been afraid to ask herself for some time.
Both Rayna and Juliette need to reconnect with the soul of country music which inspired their songs in the first place. Juliette tries to make peace with the accident by going back to the crash site with Avery in the middle of the night. I've said it before and I'll say it again. Avery is one of the most patient, loving husbands on the planet. After spending the night holding his sobbing wife in a field, Avery and Juliette decide to go home until Juliette opens her ears. In the church across the way Juliette finds her angel, the woman who rescued her the night of the plane crash. Rayna can't bring herself to come home on the plane, and not even an impromptu visit from Deacon can help her. Rayna decides to drive back to Nashville, and is inspired by a blind man singing a rendition of her favorite song "Wayfaring Stranger". These ladies have been pushed to the edge as a result of being pulled in so many different directions, they've forgotten why they love country music in the first place. Now is the time for a reset.
Did the one hour sneak preview of Nashville's new direction bode well for the new season? Share your opinions in the comments.
Nashville Season 5 Episode 1 Review: "The Wayfaring Stranger"
Summary
CMT gives a special holiday preview into the first hour of Nashville's fifth season before the show returns in January.