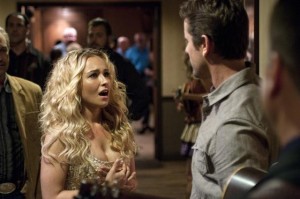 Juliette may be a rising star on ABC's Nashville, but this younge ingenue isn't afraid to go after what she wants.
What exactly does she want?  Well, Rayna's crown as the Queen of Country Music certainly wouldn't hurt.  When the two women first meet in the pilot (watch that scene), there's friction.  Rayna thinks Juliette is a no-talent child, while Juliette thinks Rayna's time in the music scene has come to an end.  When Rayna learns that her music label wants her to hitch her wagon to Juliette's rising star, Rayna is less than impressed, a feeling that Juliette seems to share.
So Juliette approaches Rayna's band manager, Deacon Claybourne, to take him away from Rayna and bring him on board with her tour instead.  Appealing to his desire to get his original songs more visibility, Juliette also offers him more money and slips in a slide dig that Rayna's upcoming tour might be cancelled.  Deacon seems stubbornly loyal to Rayna right now, but who knows what will happen in the future.
Watch a sneak peek below for the series premiere of Nashville, airing on Wednesday, October 10 at 10:00 p.m. ET/PT on ABC.
[FLOWPLAYER=https://www.tvovermind.com/wp-content/uploads/2012/10/nash-101-4.jpg|https://www.tvovermind.com/wp-content/uploads/2012/10/NVL101_fv04.h264HD.flv,440,280]