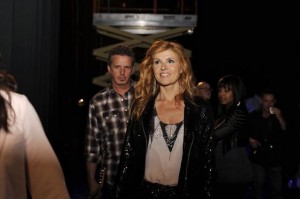 There's no love lost between Rayna Jaymes and Juliette Barnes on Nashville, the new country music drama coming to ABC.  The two women meet in the show's pilot and it's clear that an epic rivalry is brewing.  It stems from the fact that Rayna Jaymes has been a best-selling female vocalist for the last twenty years.  But her record sales aren't what they used to be.  Her record label has a suggestion: Rayne should co-headline a tour with up-and-comer Juliette Barnes.
Juliette's a sassy and sexy young singer, billed as a country cross-over artist who is playing to sold-out crowds and climbing the charts.  And Juliette has her own plans for a career…plans that don't include being saddled with the aging Rayna.  When the two women first come face-to-face at the request of the label, they both do their best to insult each other in the cattiest, but most polite, way.
Watch the sneak peek below and tune in to the series premiere of Nashville on Wednesday, October 10 at 10:00 p.m. ET/PT on ABC.