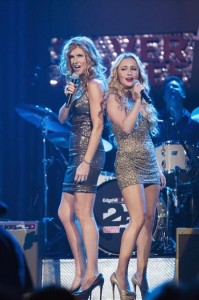 Can Rayne and Juliette put aside their differences in tonight's Nashville?
Marshall Evans continues to encourage Rayna and Juliette to sing together at a Ryman theater event, but I'm sure you can guess how eager the two women are to work together.  From the looks of one of the clips, they're happier slinging mud at one another than realizing they can both benefit from this duet.  Eventually, however, they do perform on stage together.  The question is: are they willing to work together again or is this a one-time thing?
Teddy will be forced to come clean with Rayna after Peggy's continued desperation reaches its peak.  The actress playing Peggy was recently made a series regular, so expect to continue seeing her this season. 
Finally, Scarlett's recent break-up with Avery leads her to seek comfort in Gunnar.
Watch two sneak peeks below for tonight's all new Nashville, airing at 10:00 p.m. ET/PT on ABC.
 [FLOWPLAYER=http://www.tvovermind.com/wp-content/uploads/2012/11/nvl-107-1.jpg|http://www.tvovermind.com/wp-content/uploads/2012/11/NVL107_fv1.flv,440,280]
[FLOWPLAYER=http://www.tvovermind.com/wp-content/uploads/2012/11/nvl-107-3.jpg|http://www.tvovermind.com/wp-content/uploads/2012/11/NVL107_fv3.flv,440,280]