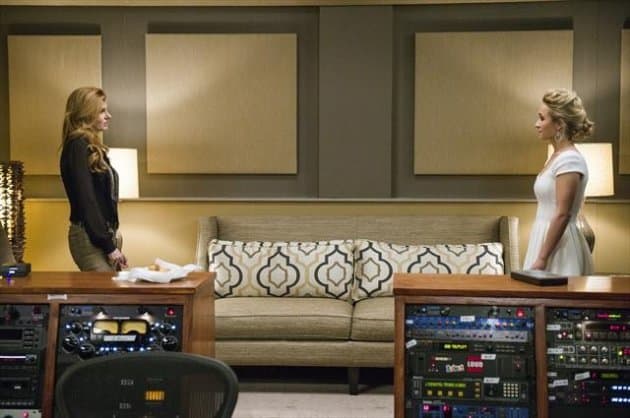 Juliette got engaged on a whim in the winter finale of Nashville and now she's racing to the altar.  Actually, she's already married.  Apparently she and Sean eloped, but while she may put on a facade of conviction in her new marriage, there's a lot of people who don't agree with what she's doing.  Chief among them is her mother, who seems to have cleaned up after her recent rehab stay and tries to explain to her daughter that a quick marriage isn't the answer to her problems.  As if her new marriage isn't enough pressure, Rayna tells Juliette that she wants to head out on tour immediately.  It seems like the two women have managed to reach an impasse, even if they can't really stand one another. 
Rayna suggests bringing her daughters along with her on the tour, but Lamar isn't happy to see the girls leave Nashville and tries to hold Rayna hostage with some old family secrets. 
Meanwhile, Avery has headed out of town to help celebrate his new musical career and, with the advice of Dominic Wells (guest star Wyclef John), he takes steps to put even more space between himself and his band.  Back home, Scarlett gets a new job offer singing in a club.
Watch sneak peeks below for tonight's new episode of Nashville, airing at 10:00 p.m. ET/PT on ABC.
[FLOWPLAYER=http://www.tvovermind.com/wp-content/uploads/2013/01/nvl-109-1.jpg|http://www.tvovermind.com/wp-content/uploads/2013/01/NVL109_fv1.flv,440,280,true]
[FLOWPLAYER=http://www.tvovermind.com/wp-content/uploads/2013/01/nvl-109-2.jpg|http://www.tvovermind.com/wp-content/uploads/2013/01/NVL109_fv2.flv,440,280]
[FLOWPLAYER=http://www.tvovermind.com/wp-content/uploads/2013/01/nvl-109-4.jpg|http://www.tvovermind.com/wp-content/uploads/2013/01/NVL109_fv4.flv,440,280]